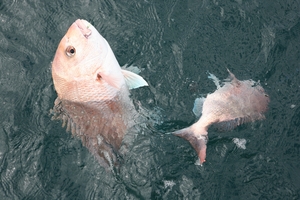 Small snapper are plaguing fishermen at the moment, and while it is good for the future it can be frustrating.
One solution is to keep moving, trying different spots and, more importantly, different depths. Changing the approach can also help, like using fresh kahawai or yellowtail for bait which will deter the little pickers. Lures like soft baits tend to target bigger fish, so this is another option.
But when small fish are brought to the surface, the way they are treated will influence the chance of survival.
For example, a snapper's eyes were not designed to be exposed to bright sunlight so keeping them in the water is a good start. The hook can be flicked out with long-nosed pliers and the fish released without touching it, another important part of the process. Dry hands can damage the coating of slime which protects the skin from infection, and if a fish must be picked up a wet towel or at least wet hands should be used.
They were not designed for flying either, and a fish slipped gently into the water will be in better shape than one which is tossed into the air.
Squeezing fish to grasp them does not help, either, and internal organs can be damaged. Most involves common sense, but it is disappointing to see how some people treat fish being returned to the water.
The Waitemata Harbour is still holding good numbers of snapper, but large tides make it almost impossible to get a bait to the bottom.
The shallows are still fishing better than the deep channels, but this type of fishing is more specialised than dropping baits to the bottom in a channel. Noise is a factor, and small boats are obviously better suited than launches, and light line on spin reels with tiny sinkers is the best tackle to use. Fishing the shallows at dawn or dusk is preferable to bright sunlight, and berley always increases the chances. Spots to look for are areas of rocky foul, with guts leading out to deeper water. Potential fishing spots can be checked at low tide when reefs are exposed. Keeping in touch with the bait is important, as it can be pulled into crevices by small fish if left to lie on the bottom. A slow moving bait often works better than a stationary one, so raising the rod every now and then is a good idea.
The spell of golden weather has been a blessing for game fishermen and marlin are being caught in good numbers everywhere on the west coast from Taranaki to Raglan to the Manukau coast and further north. The other side is fishing just as well from the north all the way down the coast to the eastern end of the Bay of Plenty, where 20 marlin were caught in one day out of Waihau Bay.
Freshwater
Fishing on the Rotorua lakes, like the snapper fishing everywhere, is best described as patchy. Deep trolling needs super deep lines like copper wire, or downriggers, to get lures down to where the trout are at 30 metres. Jigging on Lake Rotoiti is still producing some big fish, including a nice rainbow of 4.2kg from the west bank. The hole at Vercoes is also producing some action.
Fly fishing the stream mouths on Lake Rotorua is also patchy, with the Awahou and Hamurana Stream mouths not fishing consistently in spite of the hot, dry weather. The mouth of the Waiteti Stream is better, with some good browns coming from fishing deep over the drop-off late at night. This can be reached by wading out to the marker buoys, and a large brown fly at night and small nymphs are working. Nymphs like a black nymph and hare and copper are used during the day.
Bite times
Bite times today are 5.40am and 6pm, and tomorrow 6.25am and 6.50pm.
Tip of the week
When fishing for snapper cast well away from the boat, for bigger fish tend to hang back down the current. A spin reel is much easier to cast than a free-spool reel, and a long rod helps.
More fishing action can be found tonight on Rheem Outdoors with Geoff, 5.30pm TV3.