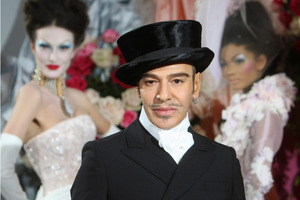 Fashion designer Oscar De La Renta has offered disgraced designer John Galliano the chance of a comeback following his dramatic fall from grace in 2011.
Galliano was fired from his job as the head designer at Christian Dior after hurling anti-Semitic abuse at a couple during a night out in Paris, France.
The British designer admitted he was battling a drinking problem and has spent the last two years recovering, and now De La Renta has offered him the opportunity of returning to past glories.
Galliano has been working on the designer's autumn/winter 2013 collection, which will be previewed at New York Fashion Week this week, and De La Renta hopes to extend the temporary contract.
"I would love for him to stay. Will he? I cannot tell you that today because we haven't gone that far in really discussing it,'' De La Renta said.
"The fact is, we work very differently in New York than in Paris. It's night and day. We work at a much faster pace. So the answer is we don't know. We're still exploring.
"I think John is one of the most talented men I've ever met. I like him very much. I also believe that everyone should have a second chance, especially someone as talented as John. And he has worked so hard on his recovery.''
- WEN