Fishing Fleet by Anne de Courcy
(Weidenfeld & Nicolson $39.99)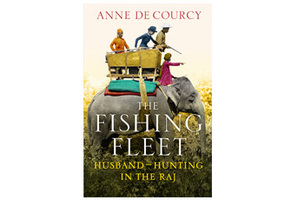 This Fishing Fleet has nothing to do with cod or snapper. It's a witty, whimsical account of the boatloads of British belles, who, from the mid-18th century to the mid-20th century, were shipped out to India to marry English males.
It was a policy rooted in racism: no way could an officer and a gentleman wed a coloured woman. And it didn't always bring belles: many of the "superfluous women" who came to the sub-continent were poor, plain or "old maids" (i.e. over 25). Their only alternative was often the lowly life of a governess, or prostitution.
Once they arrived, the women - or girls; some brides were 16 and some grooms 19 - were paraded at parties to which bachelors flocked to make their pick. A letter home from one young officer announces his marriage in one sentence. He then spends twice as many words describing other local fauna.
The fishing fleets arrived to a society of rampant snobbery. Even postprandial visits to the loo were conducted according to rank. One governor threatened to tie a rope around a servant's neck and hang him over the side of a boat for speaking too loudly.
A new arrival was shocked to have her hair brushed by "skinny black hands". You want to smack a few spoiled legs.
Life for the lucky ladies (those who couldn't find a spouse might be shipped back to Britain as "Returned Empties") was a swirl of calling cards, parties, dinners, changing one's dress five times a day. There was Polo Week and Cricket Week and Rugger Week.
There was boredom and loneliness while husbands were away.
It wasn't all paradise. Disease, snakes and panthers lurked. Dust and mosquito veils were essential.
Wine glasses had to be covered to stop bibulous cockroaches. Monkeys filched the silverware; bats nested in the bedrooms. Some marriages were miserable; some were blissful; many were a compromise.
The drama is in the details, and Anne de Courcy does these splendidly. You hear about champagne as a last resort for illness; tiger slaughter ("we had a lively time indeed"); the invaluable "combination undergarment of silk or cellular flannel with the lower part made loose and roomy".
You also hear about the sickness. Diphtheria, scarlet fever, enteric fever and septicaemia ravaged families. Cholera was most-dreaded: 146 men of the Yorks and Lancasters died within 48 hours of one outbreak.
De Courcy sets the social contexts neatly. She's clear and she's charitable. Other times, other needs.
The "brilliant, exotic beauty" of India and the impressionable or impermeable Anglo-Saxons who went there make a wonderfully readable combination.
David Hill is a Taranaki writer.