Herald Rating:
3/5
Address:
1205 Great North Rd, Pt Chevalier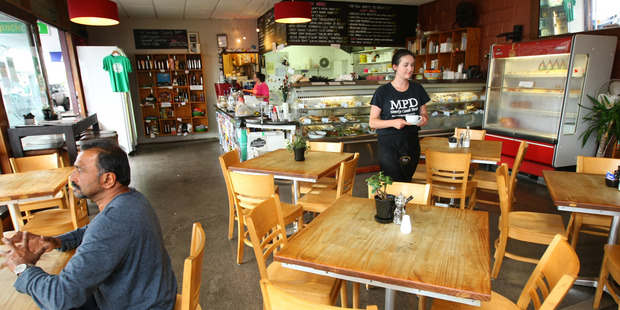 We came here because it's local and the pickings in Pt Chev are slim. Plus I once saw that Ray McVinnie off the telly eating here.
Parking was easy. Not much happens around Pt Chev of a Saturday morning.
We walked in and immediately thought the decor needs a freshen up. And the floor-to-roof windows mean you're in plain view of the street. Call me a philistine, but the couple of paintings on the walls could only be described as coming from the "1990s-cafe-hell" school of art. ("It's lucky there's not more wallspace," says Louise). There's also a junkie-zombie style Santa on the window (only 320 sleeps to go!). It's counter service with a busy deli section - I've had stuff from the deli before and it's very good.
The most unusual thing about the menu was the flipside. The front page has the usual brunch suspects - benedicts, scrambles, mueslis, etc. But overleaf the "light meals" sections offers some great variations. Seddon Fields brekkie ($18) features portobello mushrooms, the Pasadena bagel ($16) promises bacon, avocado, spinach and hollandaise goodness and a joint like this is bound to have great sweetcorn fritters ($16).
We ordered eggs rancheros ($17), scrambled eggs with chorizo, chilli and cheese on ciabatta and a bit of cajun aioli floating around. Delicious. The MPD benedict ($18) came with pesto, spinach, bacon and a slow-roasted tomato that didn't appear to have done much slow roasting.
The coffee was nicely done, with Altura beans. Served with a piece of brownie.
The service was homely, like the rest of the place.
We recommend if you come here you bring your hangover. The portions are generous and the food delicious.
Overall we thought the food is good, but Pt Chev is still crying out for a great cafe.