Where to go on Valentine's Day? Viva gives you some food for thought.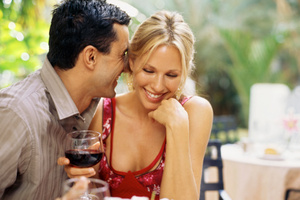 To me, dining out is one of the most romantic things you can do. I have such sweet memories of the special dinner dates I've been on over the years: holding hands across the table, gazing longingly into each other's eyes, sharing forkfuls of food back and forth from one hungry mouth to another. At 16 I went on my first dinner date and the boy in question pitched it perfectly by taking me to the Middle Eastern Cafe in Wellesley St. It was suitably informal and the food was deemed mysterious and exotic enough to make us feel very adventurous indeed. A bonus was the bottle of cheap white wine we were able to sneak in, pouring it surreptitiously into tumblers under the table.
When lining up a venue for a dinner date it's important to give some thought to what will work best - a casual eatery can take the pressure off a first date, occasion dining can inject some "specialness" into a long-standing relationship, and then there's restaurants that seduce you so completely that, well, anything might happen. Here are my picks for Valentine's Day - you choose the level.

First date
Where to go on that all-important first date? Too formal can end up too intense, too casual and you risk losing the intensity. When one of my sisters was being courted by a cute Lebanese boy, they'd go by ferry to Devonport, walk up the street for fish and chips and eat them sitting on a nearby seawall. Afterwards they'd enjoy the return trip with salty lips and sea spray in their hair. It must have worked its magic because that was more than 20 years ago and now they have two adorable children.
A drive can be just as good for relaxing the moment and I'd recommend travelling west, through the lush dense bush to The Refreshment Room (233 Scenic Drive, Titirangi, ph (09) 551 1705) with its spectacular views out to Auckland City and sensational homemade pasta dishes. Or head out past the neatly arranged vineyards of Kumeu to the stunningly designed Tasting Shed (State Highway 16, adjacent to Coopers Creek Vineyard, ph (09) 412 6454) where the shared plate-style menu is full of fabulously interesting dishes.
Take the southern motorway to Bombay to the beautiful Bracu (49 Main Rd, Bombay, ph (09) 236 1030), perhaps our most gracious of country restaurants.
Now that the kitchen is in the hands of chef Mikey Newlands the food is outstanding and more than worth the drive.
Failing those, try a food hall to keep it casual and fun. We like the ones on Ponsonby Rd and Albert St for variety and great people-watching.

Let's get flirty
Flirting over the dinner table is fun. Experienced waiters will be able to identify that you're "on a date" and if you let them, they can assist with a bit of jaunty banter. It's their job to make you both feel fabulous, special, funny, interesting and intelligent, but they can only work with what you give them so ... engage with them, joke a little, play, ask questions about the menu, take their wine recommendations, have fun. Some of the best front-of-house teams for this are to be found at Cibo (91 St Georges Bay Rd, Parnell, ph (09) 303 9660), Moochowchow (23 Ponsonby Rd, ph (09) 360 6262) and Coco's Cantina (376 Karangahape Rd, ph (09) 300 7582) and at all three the food will rock your world too.

Seduction
The simple act of sitting over the table from one another enjoying lovingly prepared food, the attending nature of the staff and the way the evening gently unfolds can create magnificent intimacy and memories that last forever. I still have an intensely clear picture of an evening spent at the fabulous French restaurant on a steep street in Dunedin with a man I was sure I would spend the rest of my life with, and of the silent American who produced a ring at the table on Martha's Vineyard where they served sensational clam chowder, and of a small bistro in Paris where we watched as the chef gently folded whipped cream through a risotto at the last minute and I fell in love with that city all over again.
For sheer seductive value you can't go past Clooney (33 Sale St, Freemans Bay, ph (09) 358 1702). Along with some of the most outstanding food money can buy, care of head chef Des Harris, this restaurant offers a mysterious quality that few others achieve. The dining room, with lighting that flatters everyone, is partitioned by jet black, floor-to-ceiling tassel drops that create a surreal, see-through effect, and the staff move like shadows, seeing to everything without you having to think about it. Seated at round tables you are in your own private bubble.
Upstairs at Roxy in Imperial Lane, City, ph (09) 929 2701) is another sexy space, where large black chairs envelop you and Sean Marshall's food will take you all the way. Afterwards you can stroll hand in hand through the cobbled laneway or have a drink in their open-air bar.
There's also TriBeCa (8 George St Parnell, ph (09) 379 6359) in the historic Foundation Building in Parnell where chef Hayden McMillan's (ex-Meredith's, French Cafe, Vinnies) beautifully put-together dishes will make you swoon, and the courtyard seating on a balmy night is the definition of romance.

The complete package
Sometimes it's the whole kit and "canoodle" that's required - a hotel room booked, dining in-house, then waking for a leisurely breakfast. For me, at this time of year, there's only one option - the majestic, ever-pretty-in-pink, five-star Langham Hotel where you get to enjoy a rooftop pool, sun loungers and spa facilities along with your plush room. Hotel dining options rarely come better than their opulent Barolo, the north-Italian influenced restaurant, and Eight, which offers food from around the world. The breakfast offering is mind-blowing, with separate stations for dumplings, sushi, pancakes, fresh baked pastries and much more.
Wherever you choose, it's who you dine with that will stay in your memory forever, so love the one you're with, enjoy the moment and don't you dare split the bill.