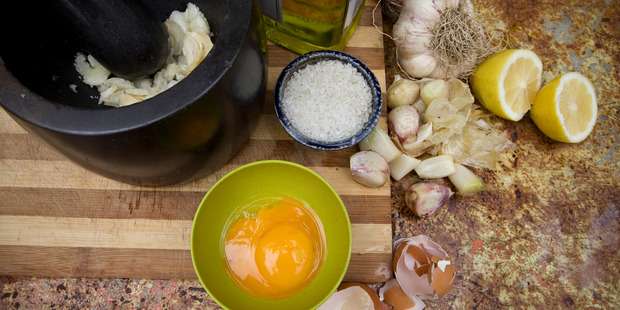 It's a common offering seen on many cafe menus - fries with aioli. While usually this is just a mayonnaise with some garlic blended through it, true aioli is another animal. There is nothing wrong with making a garlic mayo but, if doing so, you will achieve a better result by using roasted garlic as opposed to raw.
Aioli is a traditional Provencal sauce made with garlic, olive oil, lemon juice and egg yolks. The Spanish Catalan version is named allioli. Many recipe variations exist - mustard may be added, in Catalonia pears can become an ingredient.
The name aioli comes from Provencal words "alh" meaning "garlic" and "oli" meaning "oil". It is an emulsion sauce, like mayonnaise.
1. Smash 6 fresh, peeled garlic cloves to a paste in a motor and pestle.
2. Whisk into this 2 egg yolks and, if you like, a teaspoon of grain mustard.
3. Starting with small quantities, start whisking in olive oil (2 cups in total) and the juice of half a lemon.
The oil can be added more quickly once the emulsion has started. Use your best oil, this is a major component of the taste of the sauce. Season with salt to taste.
Serve with raw vegetable sticks as a dip, dropped into seafood soups or make Le Grand Aioli. A big bowl of this unctuous sauce is served with blanched vegetables, beans, carrots, baby potatoes, little baby tomatoes, boiled eggs and a mix of cooked fish and shellfish.