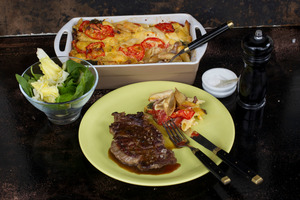 Pasta served plain or dressed is a change from our usual side of potatoes. This version of macaroni cheese sits well with a grilled steak.
1. Make a batch of Felicity's Grandmother's Cheese Sauce as below.
2. Cook some macaroni.
3. Slice some tomatoes and onions.
4. Caramelise onions in some oil, balsamic vinegar and a bit of brown sugar. Cook them gently until
softened and coloured. Drain off the excess oil.
5. In a baking dish, layer the macaroni, tomatoes and onions and cheese sauce.Add a little more grated
cheese between the layers. Top with tomato slices.
6. Bake in a moderate oven until well heated and a little brown on top. Serve with a salad for lunch, as a light tea or as a side with some main course meat.

Felicity's Grandmother's cheese sauce
Grandmothers often have a lot of tricks up their culinary sleeves and this one is a winner. It's an excellent way to use up all the odds and ends of cheese that hang out in the cheese box. Grate them up and turn them into this cheese sauce, which can be used in many ways. You can fill little pastry cases with it to make a savoury snack, use instead of the usual roux-based cheese sauce in lasagne, or pour it as a sauce over some hot fettuccine.
• 1 egg
• 2 tablespoons of flour
• 1 cup of grated cheese
• 1 cup of milk
• A pinch of cayenne pepper
• ½ teaspoon of English mustard powder
1. Combine all the ingredients in a saucepan and cook on a medium heat, stirring constantly. Once thick, set aside to cool.
2. To use as a pasta sauce you will need to make this a bit thinner. Add a little more milk once the sauce has cooked and whisk together until well combined.
3. Serve with chopped parsley and extra grated cheese.