Our fine feathered friends inspired this sculpture, says Justin Newcombe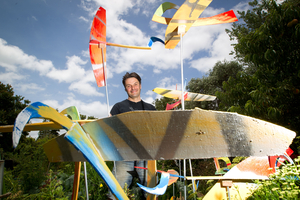 I'm having a devil of a time at the moment with one of my cats. A friend said to me recently that if we were really serious about saving our endangered birds, we'd get rid of our cats. A bit heavy handed - or is it?
The older I get, the more I appreciate the birdlife in the garden; all that wonderful arguing in the feijoa tree or sunflowers and the rowdy dawn chorus. So to find the results of my cat's hunting exploits displayed on the garden path has become more than irritating.
She is young and it is her nature, but in my heart I'd prefer having the birds in the garden to having my cat.
It is in that spirit that I've decided to produce a sculpture this summer. Actually, that sounds a little bit pompous. I originally just wanted to add some harder elements to the vege garden to give some interest during winter and some continuity during summer, instead of the green fuzz the garden can sometimes take on.
As far as structural elements go, a sculpture is relatively low-maintenance. Of course, there are many ways to get such elements into the garden, and by far the easiest is with your wallet, but how much does it cost? Start adding some scale and individuality to the equation and your outlay can be considerable. Coming up with your own ideas can be rewarding and if you get stuck, the library is an excellent place to find inspiration.
For this project, in honour of my feathered friends, I have constructed multiple bird shapes out of plywood pieces. I've made a template for each of the pieces that form the birds. Each bird can be formed slightly differently, making each distinctive from its fellows in the rest of the flock. I've painted the pieces before I put the birds together and have lined some of the pieces with aluminium sheeting. This is easy to work with and can be glued to the plywood.
The birds are then mounted on thin poles and installed in the garden.
I'm hoping this small shrine to birds might encourage some of my other family members to take a harder line on my mog. At the very least, she will be fitted out with a bell in the hope that a little bit of jingling might be just enough of a head start to see my avian friends enjoy another dawn chorus.
Step 1: Have a basic idea of a shape which can be easily broken down into two or three pieces and arranged in multiple ways to produce birds that look the same, but are moving differently.
Step 2: Mark out, and with a jigsaw, cut a template for each piece that will make up the birds. You can use a piece of MDF, thick cardboard or thin plywood.
Step 3: Use the templates to mark out the pieces on a sheet of 12mm plywood. Cut out with a jigsaw.
Step 4: Paint each piece using acrylic paint. I recommend bright colours. Make sure you seal the edges of the plywood, using plenty of paint.
Step 5: Use the template to mark out the shapes on a thin sheet of aluminium. Cut using tin snips. Glue the pieces on to one side of the corresponding plywood shapes using strong exterior glue. I've used Selleys polyurethane adhesive.
Step 6: Arrange the finished sections to form the birds, then glue together. Work out how each bird will sit and arrange a 20mm square mounting block on the bottom of the bird then glue into place.
Step 7: Mount each bird on a pole and install it in the garden.