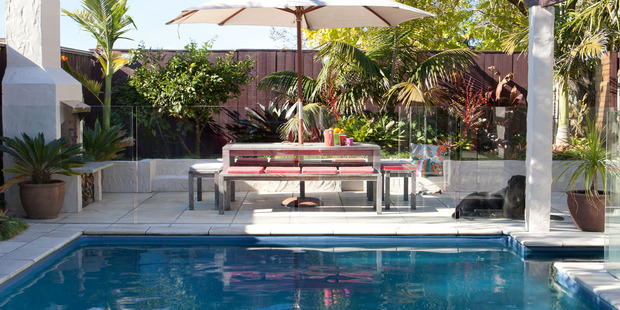 The aqua blue swimming pool in the backyard of Deb Lawson's Spanish-style home is the jewel in its crown, say its owners. It's been 10 years since they bought their house in Auckland's Half Moon Bay and the pool is still its main draw card.
"We love cooking on the barbecue, eating and entertaining outside, and generally just enjoying the outdoors while we watch the kids race around on their bikes," says Lawson.
The back gate leading out to a huge private park was a bonus. "We have an annual summer barbecue with all our friends and their children, where we swim in the pool and take part in activities in the park, such as cricket and soccer. It's so much fun," she says.
She and husband Scott were initially attracted to the home because of its relationship to the outdoors. "We loved the Spanish style, the potential for it to be made open plan and the fact that the entire house wrapped around the pool," says Scott.
Despite having no previous renovation experience, they set about transforming the house inside and out. They had a freestanding outdoor fireplace built, replaced the pool liner, painted, added new paving, a new garage door, fences, gates, copper spouting and a frameless glass pool fence. They also made over the overgrown and unloved garden, which was previously buried in dated terracotta-stamped concrete. "It's been a massive job," says Lawson.
The interior was addressed too. The couple updated the living areas, which featured floral wallpaper and 1970s chandeliers, transforming them into calming havens. Scott took on all the demolition and building work, while Deb was in charge of painting and decoration. "I did, however, break up all the indoor tiles inside with a rotary hammer, which was lots of fun," she says.
A huge 1970s-style arch at the front of the house was remodelled and squared-off to give the exterior a more contemporary look. The whole process filled around 15 rubbish skips.
"A lot of skills have been learned on the job with this renovation," says Lawson. "We've been very fortunate to have been given great tips and tricks from friends in the building and glass trades. We've built up a pretty extensive power tool collection too."
Lawson's interior style has been inspired by Scandinavian-style decor and vintage looks. Plus she's a big fan of colour. "I love the fun and energy that colour gives - it's so cheerful and really puts a spring in my step. A lot of my decorating philosophy is based around being relaxed and not being precious about changing things until you get the balance right."
Modern designs from the likes of Orla Kiely and Cath Kidston show up in most rooms, however, Lawson says she also likes traditional styles. "I'm sure we'll adopt [these] once the kids are older, but at the stage we're at now, we're all about creating a fun, vibrant space."