From Christmas carols in a cave to stand-up paddle boarding Santas, Danielle Wright goes in search of some Christmas cheer.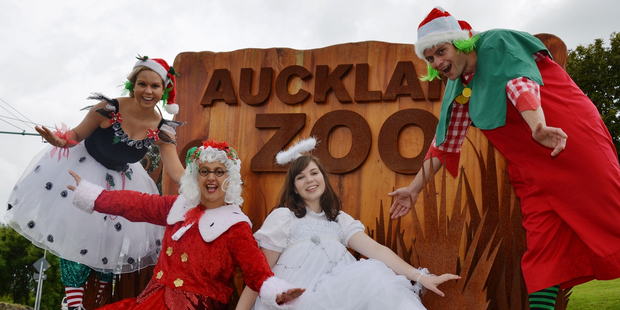 Winter wonderland indoor forests, Santa fun runs and fancy fairy lights - children these days are spoilt for choice with family holiday traditions. Here's our pick of the Christmas crop:
O CHRISTMAS TREE
Christmas Wonderland Event
Rawene Centre, 33 Rawene Rd, Birkenhead. Open to the public December 1-2, and again December 6-9, 12 noon-10.30pm. Adults $12, seniors/students $9, children (2-14) $6, Family Pass $30.
Enter an indoor forest with 150 uniquely decorated Christmas trees that organiser Mary-Rose Hall says is: "art on a tree and not necessarily all Christmas-themed. There's a cuckoo clock tree, a sports-ball tree, one covered in ice creams and over 150,000 fairy lights. Some trees are 12 feet high, so it's quite awe-inspiring for the children. There's nothing else like this in New Zealand.
Also try: Trees at the Meteor in Hamilton from 18-22 December, for "Trees of Awesomeness". Last year, a tree was made out of cans of baked beans. There's also the "Cheesy Christmas Jumper" with the tagline: "Peace and Good Wool to All".
SANTA CLAUS IS COMING TO TOWN
The Great KidsCan Santa Run
2-3km, nationwide on December 5 at 6.30pm, check website for venues, entries online or in person, proceeds to KidsCan.
"Everyone must be relaxed at Christmas because The Santa Run always has a party atmosphere," says event organiser Shaun Collins, who gives a free Santa suit with every entry. "We keep the distance low so anybody and everybody can do it. There are Santas, as well as the odd reindeer, elf, and Christmas pudding."
Also keep your eye out for Santa on a Stand Up Paddle Board at Takapuna Beach on Saturday December 15 or Roaming Jazz Santas in Takapuna on Saturday December 22.
FA LA LA LA
Carols in the Caves
Waitomo Glowworm Caves from December 7-9, tickets available now from the Waitomo Caves Discovery Centre.
Each year the local Waitomo Caves Choir - made up of farmers, teachers, cave guides and students - sing carols in the Waitomo Glowworm Caves. From September, they're practising while milking cows or walking to work.
Martha Ash, who has conducted the choir says, "It's classical a capella and a lovely community event. We have supper afterwards with Christmas cake and baskets filled with strawberries. The atmosphere and acoustics are magical with lots of use of light. At the end, in the dark, a five-year-old 'angel' walks in to Silent Night. It's spine-tingling."
Others to watch include a Carollers Flash Mob in Takapuna at Shore City at 7pm on Friday December 21, Carols by Spiderlight in Avondale Town Square on Sunday December 9, 6-8pm, Carols at the Falls, Falls Park, Alderman Drive, Henderson on Saturday December 8 from 4pm- 9pm and Carols by Glowstick on Sunday December 16 from 6pm-7.15pm at Vector Arena, lit up with 10,000 glowsticks to benefit KidsCan.
TRADITIONAL FAVOURITES
Christmas at the Zoo
Motions Rd, Western Springs, Sunday December 2, 5pm-7pm, Adults $20, Children (4-14) $10.
Not only is it Christmas-time at the Zoo, it's also their 90th birthday, and to celebrate, along with all the animals, there will be Christmas characters and performances, as well as a live band.
A Christmas Night at the Auckland Museum
December 20 and 21, 6pm-8.30pm, Pre-purchased tickets are adults and children over 3: $20, door sales $25.
Head back to the Victorian era with Ebenezer Scrooge and listen to carols performed by Auckland choirs. Make Christmas decorations, drink mulled wine, listen to Christmas stories or visit the Victorian mini-market.
Also try: Motat Nights, Christmas Lights every Friday-Sunday night, plus Christmas Eve, from 8-11pm starting December 14.
CHRISTMAS IN THE CITY
Unwrapping Christmas in the BIG Little City
Aotea Square, Queen Street, Auckland CBD. From December 7-21.
Bringing a little romance to the city for Christmas is Bandstand Under the Stars, with December evenings filled with salsa, swing, Bollywood, Celtic ceilidh or ballroom dancing. There's also street theatre, bands performing Mondays-Fridays from noon to 2pm and summer holiday sights such as deckchairs and petanque. There's also an Auckland Art & Craft Fair on Saturday December 8 and Christmas markets from 14-16 December.
Wynyard Quarter Advent Calendar and Xmas Fan Trail
Starts at Silo Park, Cnr Beaumont and Jellicoe Streets, Wynyard Quarter. From today, yourwaterfront.co.nz.
A 12-metre-high advent calendar in Silo Park will have one door opened each day to reveal a Christmas scene from artists such as Dick Frizzell to schoolchildren. From here, take the Xmas fan trail through Victoria Park, past the Telecom Foundation Christmas Tree, and further along to the Franklin Rd lights.
SANTA ON STAGE
The Santa Claus Show
Pumphouse Theatre, Takapuna, 3-21 December 2012, Tickets $21.
A family tradition in our home over Christmas, Tim Bray's The Santa Show is now in its 11th year and always sends the right Christmas messages to children and adults. This year, Kayne Peters from Kidzone will be playing Elfie.
Tim Bray says: "It helps people connect with the spirit of Christmas. For me there's a part in the show, which allows me to journey back to my childhood when I used to imagine Santa Claus in our lounge while I was asleep. It moves me every time."
Mega Christmas
The Basement Theatre, Lower Greys Avenue, Auckland City, 12-22 December, Tickets $30 from iticket.co.nz or call 09 361 1000.
Been a good girl? A bad boy? The people at The Basement Theatre don't care, they'll take you all in for a silly season pantomine NOT for the whole family. Mega Christmas has a rotating cast including Oliver Driver and Michael Hurst. It's the night before Christmas and Santa is missing. Along with Elf and Tinsel, a hung-over Rudolf hatches a plan to steal the magic sleigh to find Santa.
Also try: The End of the Golden Weather on Christmas Day at 10am, Takapuna Beach Reserve. Donations to Oxfam.
A DO-GOOD CHRISTMAS
Light Up Hospice
Sunday December 2 from 7.30pm 9.30pm, Hospice House, 52 Beach Rd, Te Atatu Peninsula.
Party for a good cause at the Light Up Hospice event with face-painting, a bouncy castle, comedian Ewen Gilmour, R&B duo Adeaze, Christmas carollers, a brass band, singer Lisa Crawley, Chinese dancers, a kapa haka group, belly dancers and Santa Claus. Watch the fairy lights being turned on over Hospice House as the sun sets.
"Our Christmas lights have a very special meaning - by lighting up Hospice we are celebrating life and remembering the lives of those who have brought us love and happiness," says Hospice West Auckland's chief executive, Barbara Williams.
Auckland City Mission Christmas Dinner
December 25, Viaduct Events Centre.
There are still a few spaces left on the volunteer list for the City Mission Christmas Dinner, which last year fed 2500 people. Jobs you can volunteer for range from being a chef's assistant, to cleaning up or waiting tables.
It's a community event and volunteers realise it's also an opportunity to provide a Christmas Day for people who might not have one, including families who can't afford it and those who might not have anyone to share it with, says Liam Willis of the Auckland City Mission.
GALAS GALORE
Keep your eyes peeled for signs hammered in by dads to advertise the local school gala, fete or fun day - so much more than you expect and all money goes back to the community. Here's one event you might like to head along to:
Blockhouse Bay Fun Day
Blockhouse Bay Primary, 584 Blockhouse Bay Rd, midday-3.30pm.
Relive Christmas Past with the Blockhouse Bay Family Fun Day - there's everything from dunk the teacher to a ferris wheel, merry-go-round and my all-time favourite, the laughing clowns.
Children will also have the chance to be pulled in a sleigh by newfoundland dogs. Choose from candy floss and shaved ice to Serbian, Indian or Chinese food, or a traditional bacon sandwich or mussel fritter.
LIGHTEN UP
There are pockets of residential Christmas light displays, such as Wisteria and Honeysuckle Lanes in Mairangi Bay, or try the popular Franklin Rd displays in Ponsonby, which are turned on tonight. It's going to be "the" place to be seen, or to avoid, depending on your disposition. Barbecue starts 6.30pm.
Also try: Fencible Walk, 110 Picton St, Howick, to where the Harding family moved their residential display. 45,000 people move through the Ice Cave, set up with three adjoining marquees. The best thing is that the display is totally interactive so kids can push buttons to make things work and there's no need to worry they will break something.