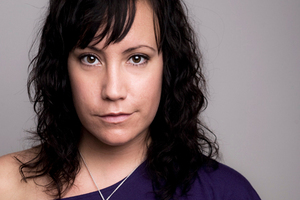 My dream role would be to play a stage character for the first time and make it iconic. I really love being a part of new works. I'd like future actors to say "my dream role would be to play [insert character name here] that Bronwyn Turei made a cult classic!"
My mum came with me when I got my lip pierced when I was 17. I don't think anything I do would surprise her.
I just don't understand why Kiwis don't have afternoon siestas like in Spain. Bring on the arvo snooze, I say.
I'm a person of simple pleasures. I get lost in a book or movie, and I love going to the beach or a park and just chilling on a blanket, or having a few beers in the sun with friends while listening to some good tunes.
I'm good at making friends, noise, cups of tea, the bed, German chocolate cake, music, mashed potatoes and sandwiches.
If a movie was made about my life I'd have Miriama McDowell play me. She's an amazing New Zealand actress and a great friend. Or maybe Tammy Davis in a wig ... But the soundtrack would be everything and anything in New Zealand music.
I have three plants in my room. My favourite is Pablo, my peace lily. I've had him for 11 years. He is getting pretty big though and needs re-potting.
Of the seven deadly sins I'm definitely most guilty of gluttony. I'm a savoury food and bread fiend.
I wish the fashion police would ban fashion haters. Everyone should feel free to wear whatever they want. Express yourself.
Bronwyn Turei is an actress and singer best known for her role as Cody in Go Girls. She performs in the Auckland Theatre Company's production of Little Shop Of Horrors, at Q Theatre, Auckland, until December 2.