A good lawn makes a good garden, so it's worth a bit of hard yakka, says Justin Newcombe.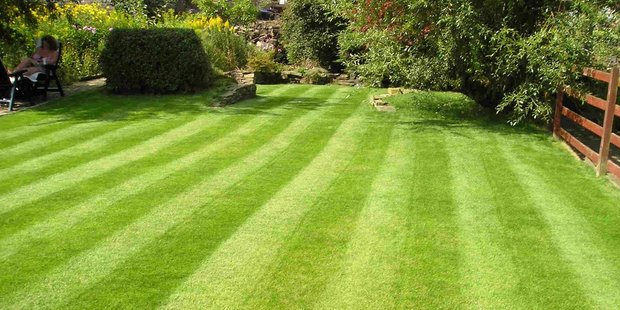 Preparing and sowing a lawn, nurturing a good lawn, feeding, cutting and maintaining a good lawn is a lot of hard work. Keeping it in perfect nick requires cast iron resolution and the dedication of a devotee. That's how it feels to me, anyhow.
My front lawn has been done and redone so many times, that I reckon if I joined all my attempts together I would have enough grass to drive a golf ball around. So why am I even bothering to go through it all again? Well it's a fact as undeniable as gravity that a great lawn makes an average garden look great. So here I go again.
My first step is to clear the surface of the lawn. My ongoing scientific research experiment has concluded lawns don't grow under big stacks of timber or bags of concrete. Quite the opposite. Which is actually good news for you organic-only readers. Stacking things on grass provides the perfect solution for you if you are going to completely re-do your lawn and you don't want to spray to kill it. You can cover it with cardboard, polythene or carpet.
A quick assessment of my not-so-green sward reveals some pretty big bare patches, some yellow and thinning areas of grass plants with a burgeoning weed population. The biggest single thing you can do to improve your lawn is address the soil structure. Grass, like most plants, enjoys a deep friable loam with great drainage. If your soil is poor and your results are poor, it might be time to completely redo the lawn by first improving the drainage and tilth of the soil. The best way to treat heavy soil is by introducing gypsum, which will help break down the tightly packed finer particles that make up a heavy soil. You can also introduce a specialty lawn mix soil which is approximately 30 per cent sand. The more sand you introduce, the more your drainage will improve. However this will also mean the lawn's watering and feeding requirements increase.
I know my soil structure is fine so instead of ripping the entire lawn out (again) I'm going to repair what I have. My first task is to mow it to about an inch long, then have a tidy up using a plastic leaf rake. This is a great way to remove thatch and unwanted moss. This material can contain fungal spores which can take hold when you combine warm weather with watering.
I want to thicken the lawn up and I can do this by either feeding the lawn with a lawn fertiliser like ammonium sulphate or I can introduce more seed. If I do both at once I may burn the germinating seed with the fertiliser. My solution is to introduce more seed through the lawn and fertilise with a light fertiliser like seaweed extract, a light dusting of blood and bone or even urine mixed five to one with water.
To introduce the seed I rake 50 per cent sand and 50 per cent soil through the existing grass. This extra soil will only be about a centimetre thick. I rake the seed through this. You can get specialised seed packs for shade or drought conditions, but for a good all-round grass I use a rye fescue blend.
From there, it's about ongoing maintenance. Most healthy lawn needs regular watering, so a sprinkler on a timer is a good investment.
My other ongoing maintenance task is mowing. Mow often, but leave grass long during summer. A two-inch lawn mown every week to 10 days will give you healthy strong grass plants and a great looking lawn. Wish me luck.