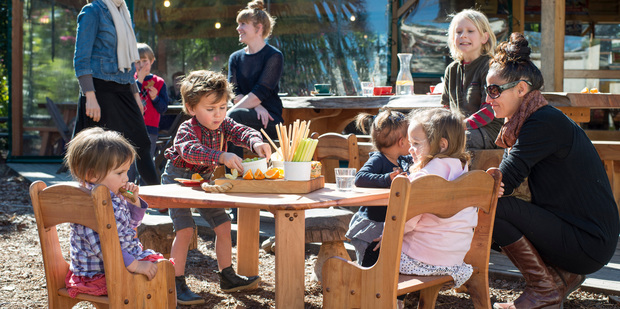 We are a bit different because we are pretty much self-sufficient. Almost everything here is made by my husband, Hamish Fletcher, Anthony Hoko and any helpful Woofers and friends that get roped in. They have made most of the furniture using trees that were grown on the property and milled on the property. This is where real men still get to feel like real men by doing manly things.
Our most popular dish is our wild game pies. They have become somewhat of a local legend. Everyone loves them, from the little old ladies who want a quick and easy meal to the hungry workmen who grab a pie to eat on the run. There are plenty of flavours, which change weekly: wild goat curry, wild venison and tamarillo, wild pork and apple; and for those a little less brave there's tandoori lamb, smoked fish, beef and beer, and blue cheese and mushrooms.
Our most unusual dish? There's always plenty of the unusual around here, we've had anything from wild thar burgers to wild venison steaks.
Our philosophy is that it's important that our cafe nourishes the planet on every level, by providing people with meaningful employment and training opportunities. And by providing our community with deliciously nutritious affordable food, having a beautiful natural environment for adults and kids to enjoy, and having sustainable practices.
Our specialty is our awesome service and good old-fashioned affordable food. The date scones quite often sell out early in the morning, the cheese scones are big enough to be a decent meal and regular coffees are still only $3.50.
The best table to sit at in winter is the one right next to the fire in our funky treehouse eatery. In summer there are lots of favourites outside in the garden. For the families there are tables under the big trees smack in the middle of our awesome adventure playground.
Our coffee is organic and Fairtrade. Jamie Brown is our barista, he is world famous in Motueka and possibly the only ever New Zealand men's netball representative to make a decent coffee.
Our chef is Brad Dalton, who likes to pretend he's still 20. Brad's vision and inspiration has turned the cafe from a couple of teenagers making paninis in the early days to a fully fledged kitchen employing four full-time chefs and churning out consistently amazing food.
Our design theme is good old Kiwi ingenuity. Our cafe is in a historic church building that is said to have been the original schoolhouse in Motueka.
We opened this cafe because there's a bounty of food producers and growers in this region. We thought it was only fair that someone used all of this fresh food to produce delicious meals.
Our Cafe of the Year dish is Brad's bacon and bean breakfast pie.
After brunch you should check out Kaiteriteri Beach for a swim or Abel Tasman National Park.
CAFE INFO
Opening hours: Daily except Christmas Day, from 8am to 6pm, later in summer.
Address: 502 High St, Motueka, ph 03 528 6456
Toad Hall is one of hundreds of cafes entered in the New Zealand Cafe of the Year Awards.