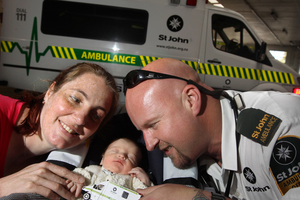 Delivering his own baby in the back of an ambulance during a late night shift wasn't part of the plan for St John officer Mike France.
Mr France was working the night shift last week near Rotorua when he got a call from his partner, Katrina Martin, saying she was going into labour with their first child.
Being an experienced ambulance officer who had attended many births, Mr France thought he had plenty of time before the baby showed up and he continued working, telling Ms Martin to keep in contact with her midwife.
"It was a bit unexpected, I got the first phone call at 10pm saying she had started to have a show. I knew from previous births that I had plenty of time to go. The nurses at ED were saying I should go because they knew where I live but I carried on and had a busy night. I thought nothing more and just put my head down, even caught up on a bit of sleep."
At 5am, Mr France was with a patient when he got the news that Ms Martin's waters had broken.
He rushed out to their home in Waikite Valley - a 20-minute drive.
"I owe massive gratitude to the patient who said I should be there with Katrina. She congratulated me and was absolutely lovely."
By the time he got there, Ms Martin was feeling the urge to push and he knew there wasn't much time.
"We got just down the road when the little fellow started to crown. I had a volunteer with me who was able to drive while I stayed in the back. We got to the end of the road and decided now was the time so it all happened in the back of the truck."
Baby Dakota Martin France was born just before 6am. Although the birth went smoothly with no complications, Mr France said the hospital staff gave him "a bit of stick" about the ordeal.
"One of the doctors said she would have beaten me to death for leaving her at home for so long. It is a special moment when you deliver a baby, it happens quite often but when it's your own baby it's unique - but I preferably won't deliver my own baby again. I really don't want to make a habit of it."
Ms Martin said she had hoped for a water birth but when things like this happened, plans just went out the window.
"A lot of people had joked prior to the birth saying it would be funny if Mike had to deliver his own baby, and he did - but it won't be happening again."
She said Dakota was a contented little fellow and already a daddy's boy.
For more articles from this region, go to Rotorua Daily Post