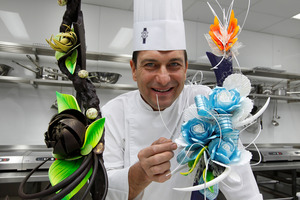 Le Cordon Bleu, the world's largest cooking institute with branches in 20 countries, has opened a school in Wellington.
Its technical director, Fabrice Danniel, a top patisserie chef, has been working with the Wellington branch's head teachers to create an elaborate new menu, including sugar and chocolate sculptures.
Owner and president Andre Cointreau said Le Cordon Bleu New Zealand would bring together classical French culinary training with New Zealand's best produce and wine.
New Zealand director Cath Hopkin said the opening showed how far New Zealand food and wine had come.
"Our teaching will emphasise New Zealand's distinctive 'paddock to plate' philosophy," she said
The school will build its roll to 300 students, most from overseas, over the next two years.
- staff reporter