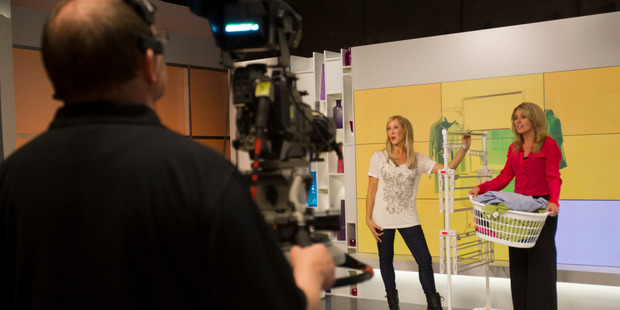 In the beginning God created the heavens and the Earth. And God said, Let us make man in our image. And man said, let us shop. And so was the Shopping Channel created. John Weekes was there for its genesis.
A luminous barcode shines on a screen behind the cameras. Opposite those adoring cyclops eyes, steam spurts from a machine that sucks up all manner of household gunk. Cookies, cola, jam, your dog's undesired effluent.
No problem. "Anything that goes into a pet. Anything that comes out of a pet," a man off-camera says.
His name is Ian. Ian is engaging. Ian is passionate about his product, the Steam & Sweep Hard Floor Cleaner. Ian believes. This is no sales pitch. This is a mission.
The Gospel of Comfort is at stake. These things have a price, sure, but no one's forcing you to buy.
You deserve to buy this product. This is a vacuum cleaner that is more than a vacuum cleaner. Oh, so much more than a vacuum cleaner.
This is the new Shopping Channel, where consumer paradise unfolds inside a cramped studio. The night's greatest revelation, greatest affirmation from behind the scenes, is that these products actually do what you see them do on screen. There is no trickery. We see Ian and presenter Candy Lane, she of the fairy-tale name, empty the Steam & Sweep. All the crap sucked out of the carpet is there.
Ian was screen-tested earlier, but he's clearly a natural anyway. He makes you wish you had a ceramic floor to spill stuff on.
The brand isn't everything, man. The presentation is. In today's world, the competition is tough. Only the strong, the slick, the smiling survive.
The Shopping Channel's presenters are what some people call household names. But they are trusted names, too. They're attractive. They're sympathetic. They are beloved. Isn't that what you'd expect from your living room guests? Banker Guy Hallwright probably couldn't be a presenter. Anna Guy maybe could.
The creation of Consumer Paradise is explained. Alistair Duff, chief executive officer, says Day One was emotional. He sits in the kitchen of Sky Television's Albany office. Outside, in a bleak post-industrial landscape, not far from a vast Pentecostal super-church, squat concrete buildings hawk everything from graphite-coloured 23-jet spa pools to heavy-duty aluminium axles for racing car enthusiasts. This is the Albany Consumer Paradise Subdivision.
Day One gave the media plenty of tongue-in-cheek talk about sexual innuendo involving bananas and a Bona spray mop. But it's better to be spoken about than ignored, Duff says. "Yesterday was a bit of a blur really. The marathon actually begins now. It's a bus that doesn't stop."
The first sale was at 7.47pm on launch night - an excited Shopping Channel staff member from Titirangi bought one of Ian's Steam & Sweep hard floor cleaners.
The first "real" sale came 50 minutes later, at 8.37pm, when Pauline Williamson from Westport bought an Esteem Jewellery Petite 5-stone ring for $105. The stones are cubic zirconium, for the record.
Duff, solidly built, softly spoken, affable, exudes an evangelic glow when talking about the Channel. This is about personality. There will be engaging story-telling, live, ad-libbing, no tyranny of 30- or 60-second ad slots. The yelling, screaming infomercial is so 20th century.
The Channel is no imitator. It's a recognition of the way New Zealanders shop - increasingly online, across multiple platforms.
Duff, a media sales veteran who has worked at all the big local networks, says the decline of local manufacturing left a surplus of expertise, a residue of inventive genius waiting to explode. He wants to showcase local innovation. He hopes fabled Kiwi ingenuity will see backyard tinkerers who can't get jobs at factories put their products on the Channel.
What won't the Channel sell? Duff says ingestible pills are out. Untested goods are a no-go. Dildoes are probably out, too. At least for now.
VASES LIKE stained glass flank the stage where presenters showcase products. The set is cramped. A kitchen bench on one side has a working induction stove that stops steam and fumes hurtling upward and fogging up an overhead camera.
It is Day Two. Radio personality and Shopping Channel presenter Mike Puru is going home. Mike Puru smiles as he heads for the door. He is specialising in entertainment, gadgets and clothes. One day he may present a mind-blowingly fabulous product we cannot dare to imagine yet.
From 6 to 7pm the Channel plays pre-recorded material, a chance for us to walk about the set, observe details, look into the camera. Lights, lights, lights. A dishcloth by the stovetop. We are invited to stay for the live action. We will not be in the way. "There are always a lot of people hanging around the peripherals," production manager Kate Moses says.
We meander through a corridor. Presenters Candy Lane and Lucy Gallaugher are getting their makeup done. Lane is good-humoured when the Bona is mentioned. "It's actually really good," she says. "I've already told my husband to order two."
What about the mixed publicity the Channel got on Day One? "We've just got to take the good with the bad."
Fellow presenter Gallaugher emerges. She is awfully attractive. She has researched the products she will shortly hawk. They've been tested. She has reason to believe in them. Ad agencies watch this channel closely. There's no room for any snake oil or false claims.
Back on set, presenter Aleysha Knowles is demonstrating the AbXPower exercise machine, moving her backside back and forth. "You can work out while you're watching the Shopping Channel," she tells viewers.
"Beautifully done, beautifully done," the director says. "Very good. Two minutes."
Knowles changes clothes. She asks: "Can I please have no photos right now?" In seconds, a table has been placed where the butt-moving machine was. The turnaround is faster than a well-oiled high-school variety show. Knowles is now in a green dress, matching the colour worn by her guest expert. The new product's name sounds like "Everloo". It is Evolu, an anti-ageing product.
Already, the Channel is buzzing about tomorrow's big event. The Channel has hired one Eva Longoria to help promote it. Longoria's the star of Desperate Housewives.
Another turnaround. In the studio, Gallaugher is selling a wondrous bee venom anti-ageing formula fit for royalty. "You absolutely deserve to purchase this right now," she says.
DAY THREE. Media mass at the base of the SkyTower's shaft. The guest of honour is not the Pope, not the President of the United States. It's Longoria.
The bus heads off for a hotel just blocks away. As it pulls in, a horrible scene seizes everyone's attention. A man lies in the middle of busy Symonds St. A bus has crushed his legs. He may just be conscious enough to feel excruciating pain. Camera shutters click. Onlookers and good Samaritans assist him.
Inside the hotel, Duff and Sido Kitchin, the editor of Woman's Day magazine, sit on a stage above the media congregation.
"How was the bus trip?" someone asks.
"Surreal," the hacks and paparazzi respond.
A few questions. Duff and Kitchin talk, make more comments, but no one is really interested, and a terrible silence sinks in. Tumbleweeds circle outside the door. Duff drinks water. Kitchin looks anguished.
More awkward shuffling. Longoria, the missionary, arrives. But the Gospel of Comfort means avoiding uncomfortable truths. Longoria wants to answer only pre-approved questions about politics, fashion, beauty tips.
The Herald on Sunday has two approved questions, but they seem a bit scripted and pointless by the time a PR minder authorises us to ask them. We decline the opportunity. Longoria is confused. "Didn't somebody else have a question?"
End of conference. Longoria walks off, through a hall plastered with plush carpet. Minders cling to her like remoras. Our photographer and reporter are shooed away from Longoria and her entourage. Only certain questions may be asked, and only at certain times.
Ah, what the visitor might learn from Lane and Gallaugher. For them, nothing is off-limits.
LANE AND Gallaugher will become like friends, like family. When they fumble you'll want to embrace them. You'll want to say, "Don't worry, I still believe in you. As much as you believe in the product."
The parasocial relationship, underpinning much of the Channel's presenting style, has attracted academic interest here and abroad. Parasocial relations on television describe the presenters' relationships with one another, as well as with viewers.
Local studies include an analysis of how One News viewers were disgusted when the affable, moustachioed Richard Long was made redundant, "breaking up" the pseudo-marriage they felt he had with co-anchor Judy Bailey.
The basic elements of the parasocial relationships now seen on Sky Channel 18 were discussed in a groundbreaking study in Psychiatry journal in 1956, the heyday of bored housewife archetypes.
The authors of that study, Donald Horton and Richard Wohl, said presenters who wish to foster parasocial relationships mirror the gestures of informal gatherings.
They treat one another as close friends, addressing each other by first name, or by special nickname, to emphasise intimacy.
The Albany studio's close confines are no impediment to achieving that friendly group dynamic. Those on-screen interactions become like motions of goldfish in a bowl.
But you need not fear missing out, because presenters frequently address the viewer directly. That's you. You. No, no one else. Just You.
The Channel may essentially be an essay-length series of infomercials, but the presenters are sexy, the products uncontroversial. And the conversations are oddly engaging.
As you read this, students in Dunedin are probably inventing drinking games that involve downing vessels of cheap liquor whenever a piece of sexual innuendo makes it to air.
EVENING. DAY Four. 19:18. Eva Longoria will be on soon. Former phone salesman Charlie Gautier is discussing diamonds. Blood diamonds are not cool. The diamonds on sale are not blood diamonds.
Ads. Bloopers. The theme song, the luminous barcode.
Mike Puru is back in the house. "You've joined us at a perfect time," he says. Gallaugher is there, too. Longoria arrives. Mike Puru sings her praises. She is a humanitarian, and "not only is she beautiful and talented, but she's exceptionally clever".
How the long-dead kings of bygone ages must groan in envy in their graves to hear such praise. The banter begins.
"I saw Waiheke today," Longoria says. "I was looking for possum boots."
"Possum can withstand temperatures as cold as polar bear fur," Gallaugher says.
Longoria delivers an aphorism. "I always say, if you can read, you can cook."
Too bad if you're illiterate. Mike Puru continues singing praises.
"Every time I see you you're perky, you're in control and you could be anywhere in the world."
"I know," she says.
A perfume allergy led Longoria, First Lady of the Gospel, to create her own fragrance. It's called Eva, by Eva Longoria. Smaller bottles get through Customs just fine.
They are the means of staying fragrant in a world where angry, bearded terrorists threaten jihad.
Mike Puru talks clothes. Is choosing what to wear a big process?
"No, because I have a stylist. It's a big process for her."
19:58. Eva leaves. Gallaugher tells viewers: "You feel a bit starstruck, don't you? But she's such a lovely down-to-earth lady."
20:15. A woman in a black apron wears a psychotically happy smile. Gallaugher reappears, hawking clothes beside a living mannequin. The Native World Any Way Wrap suits all shapes and sizes. It's partly made of possum fur. The model has her arms on her hips for a long time. Gallaugher tells her to show us her arms. She stretches out, Christ-like, in the throes of ecstasy.