Helen Medlyn, singer with the New Zealand Opera.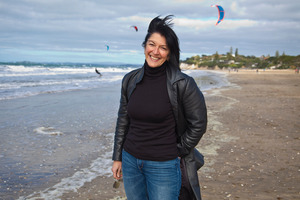 The sea is my happy place because of how it makes me feel - sensually and spiritually.
I love the sound of it, the sight of it, the smell of it, the taste of it, the touch of it - and I love how it affects my soul. My spirit feels a deep joy when I am in it, on it and beside it. I feel "right" somehow. I feel very connected to the earth and universe.
My first memory of the sea is being on the Rangitata, sailing from the UK to New Zealand in April 1961, when I was 3. I not only remember looking out over the sea, but also down on to the trains as they pulled us through the Panama Canal (which might have been the start of my fascination with trains and other big-engined machines like Harley-Davidsons, V8 cars and Mack trucks).
We first settled near Hawera and this 3-year-old's fave thing was to play on the big swing bridge over the stream at Kaupokonui just up from the big Tasman surf that crashed on to the black sand.
Being born in a seaside town - Falmouth, in Cornwall - played its part in me being a bit of a sea creature, but it was once I had been taught to swim at my wonderful primary school, Oratia, that I really felt in my element.
When we were young, Mum and Dad would take my sister Margaret and I up to Orewa for the day and - living in the western suburbs of Auckland (yes, I'm a westie chick and proud of it) - we would often go to our west coast beaches too.
And, in our Christmas school holidays, Dad had a mate who allowed us on to privately owned land right on Matai Bay and there, with no one else around, we would pitch our ancient green and white canvas tent and camp there for a week, just being salt-and-sand-covered water babies. Bliss!
These days, when "diva-ing" allows and when it's warm enough, I love going for a swim at Takapuna Beach, and I have had the great good fortune to swim in open ocean when friends have taken me out on their boats. There is nothing like swimming in deep water - the incredible feeling of being very insignificant in the midst of such vastness.
And, a few years ago, I did a five-day surfing school up at Ahipara. I loved it. I didn't manage to stand up until the last wave on the last day, but I didn't care.
Whether lying on the board or trying like a mad thing to stand, I wept with an overwhelming happiness from the magical feeling of being carried on the laughing shoulders of Tangaroa.
* Mezzo soprano Helen Medlyn sings the role of Hata in the NBR New Zealand Opera's production of The Bartered Bride, opening in Auckland September 22 and in Wellington October 13.