Olympic medallists Lisa Carrington and Sarah Walker have gone from small-town starts to the top of the world.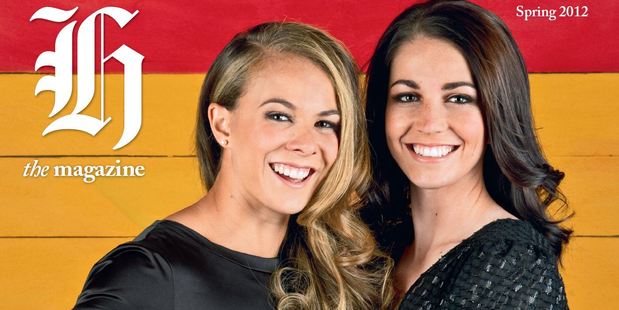 For six hours, Lisa Carrington has allowed herself to be brushed, burnished, coloured and made up. The gold medal-winning canoeist has pranced around and posed in four-inch heels, her legs showing a faint tide mark where her ankles were shielded from the sun in her kayak for nearly four months of intensive training.
Like her fellow just-for-one-day model, BMX silver medallist Sarah Walker, Carrington is taking the fuss and bother of a cover shoot in her stride. After the sweat, tension and concentration of the London Olympics, this is a breeze.
The 23-year-old, who won the K1 200m sprint event, and Walker, 24, are perfect New Zealanders: modest, but determined, small-town girls - Carrington's from Ohope and Walker from Kawerau - who are happy to share their success and enjoy the admiration of their compatriots.
In London, Carrington blitzed the field in the last 100m, winning by almost half a boat-length.
Walker rode a race of astonishing bravery, passing the Netherlands' Laura Smulders over the terrifying jumps and humps.
She spent hours and hours in training, teaching her muscles hair-trigger responses, knowing that one hundredth of a second shaved off her start could mean the difference between winning and losing. "If we went a couple of months without training we'd be screwed," she says, "you'd miss the gates." 
The athletes swap stories about sports psychologist David Galbraith and the techniques he used to teach them self-belief, such as visualising themselves out in front of the pack.
"He taught me not to worry about what people think," says Walker.
The two girls haven't seen each other since London and meet with a hug. They won their medals on the same day - August 11.
"It was a perfect day," remembers Walker. "Between races I wore an ice vest, but it was still boiling."
Laughs Carrington: "I got back to the village and Val [gold medallist Valerie Adams] just picked me up! I'm half her size."
Walker drives up from Cambridge for the photo shoot, where she lives with her boyfriend, rower Ian Seymour. Her teacher parents, Graham and Sue, who still live in Kawerau, are not yet back from Europe, having stayed on to watch Walker's brother Matt compete. Matt - "my hero" - got her into BMX as a youngster and taught her how to jump; he's now an outstanding downhill mountain-biker.
It's a sporty family. Walker was skiing as a toddler and when she started BMX, her parents nurtured her talent. They flew to London to watch her compete, too, though Walker regrets that she only managed to snatch 40 minutes with them at Kiwi House in Kings Cross.
Carrington, who has a Maori dad and a Pakeha mum, arrives wearing a pounamu that her parents sent her to replace one that sank to the bottom of a Swiss lake. The expertly carved fishhook, blessed by her tribal elders, goes with her everywhere.
Carrington credits her father Pat for giving her "a push in the right direction" by starting her at Nippers (juniors) at the Ohope Surf Club.
"I wasn't the most out-there kid," she recalls. "I was quite reserved and shy. But once I got a feeling of confidence I had enough to keep going." 
A few weeks before she left for Munich and the 3½-month Olympic build-up with the rest of our rowers, she moved in with her boyfriend, Michael Buck. Now the self-described homebody is delighted to be back with the man she calls Bucky.
"I love being home. I like to be really comfortable. I love cooking, having lots of friends around and lounging around in trackies and a hoodie."
These few weeks are the longest holiday they'll get all year, so they are off the training diet and into forbidden food. Both agree that even during training it's important to have treats.
"Just a few flakes of chocolate make you feel as though you've had the whole bar," Carrington says.
While they were away, Walker longed for Ian's mince pasta bake and a "really good steak". Carrington was looking forward to her flatmate's roast lamb.
Walker, who has now been to two Olympics, knows they are now on a global stage: sponsors and media clamour for their time, though managers and coaches keep them grounded.
She also knows about giving back to her supporters. During the makeover, a fan came in with a helmet and a silver-ink pen. Walker signed it with a special autograph she's developed so her name is easily recognised.
Cosmetics and pampering are a novelty, since the pair don't normally bother with makeup - Walker's face is covered by her helmet during racing, anyway - so when they stepped onto that podium, sweating under their jackets, and beamed those Kiwi smiles for the world to see, these two unspoiled young women didn't even wear a lick of lip gloss.
After two hours of having their hair and makeup done for the shoot, they are transformed: eyes smoulder, lips look fuller and scraped-back ponytails have given way to soft curls.
The photo shoot is over, but the work doesn't stop. The next day, it's a flight to Christchurch for the official civic welcome. There will be a homecoming parade in Whakatane for Carrington and another in Cambridge for Walker, when the rowers get back. Hundreds more autographs to sign, schools to visit.
It's hard work and it takes over their lives but Carrington shrugs off a suggestion of sacrifice.
"At the end of the day, it isn't a sacrifice, it's something I want to do."
Carroll du Chateau is a former Herald, Metro and Management magazine journalist and is now a freelance writer.
- From The Magazine featured in the September 10 new-look New Zealand Herald.