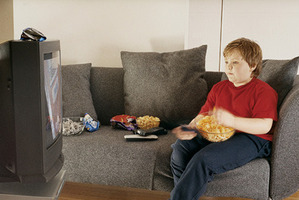 Only children are more prone to obesity than kids with siblings, researchers reveal.
The study found even after controlling other factors like the weight of parents, gender and birth weight, children who don't have any brothers or sisters are about 50 per cent more likely to battle the bulge.
Researchers measured the body mass index (BMI) of 12,700 participants from eight countries in Europe. Participants' parents filled in a questionnaire asking them about their child's lifestyle.
The results indicated that only children played outdoors less and were more likely to have a television in their bedroom, Medical Daily reported.
"Even when these factors are taken in to account, the correlation between siblings and obesity is strong. Indeed, being an only child appears to be a risk factor in and of itself," researcher Monica Hunsberger said.
"The fact that only children are more susceptible to obesity may be due to difference in individual family environment and family structure that we were not able to measure in sufficient detail," Hunsberger said.
Follow up studies will be conducted next year, according to the paper, published in the journal Nutrition and Diabetes.
- HERALD ONLINE