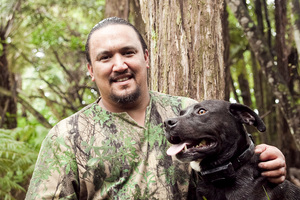 I wanted to be able to phone Cameron Petley and tell him I'd hooked, bled and filleted my own kingfish. That I too was a hunter-gatherer who refused to cook anything unless I'd caught it with my own hands.

Most of all, I wanted to be able to tell the Masterchef legend that I'd used my kingie to prepare a dish from his new book, Hunter from the Heartland.
But after three hours' fishing last Saturday afternoon, I went home empty-handed, had a hot shower and ordered a pizza.
And therein lies the problem, which I put to Petley when we spoke this week. I told him that I and many others couldn't hunt down our own wild tucker like his recipes expected.
Popping out to stick a pig, pull some watercress or shuck a paua for dinner is no easy feat when you live in the city.
I was relieved when Petley quickly allayed my fears.
Firstly, I learnt that instead of stalking 12-pointers through the bush or live-baiting for kingies on his day off, he was sitting in front of a TV watching the Olympics.
Secondly, Petley said that since taking on the job of head chef at Putaruru restaurant The Master's Table, he doesn't get much time for hunting and fishing at all these days.
"Not as much as I'd like to but I got a pig a couple of weeks ago. Nothing to brag about," he says.
I was even more relieved to find out that he's often left with no option but to buy his fish like the rest of us.
"I've got no other choice but to get it from the supermarket around here. There's no fish market. But I always check how fresh it is."
Hunter from the Heartland is exactly the book you'd expect from Petley, who quietly impressed Masterchef judges and viewers last year with his simple, earthy cuisine.
His section on eel recipes includes Poached Eel with Coriander Dumplings. There's Venison Casserole, Crayfish and Corn Fritters, Kina Omelette, and Beef Osso Buco with Truffle Mash and Parsley Oil.

"You don't have to use wild food though," Petley says.
"You can use alternatives. Instead of trout you can use any form of white fish. Or instead of wild pork you can use domestic pork. Instead of venison, cook beef eye fillet."
His advice is to find a decent local butcher and, for fish, a good market.
"Supermarkets can be a a bit dodgy. You don't know how long stuff's been in there for.
"But if you go to a fish monger you're guaranteed fresh fish. It's always fresher 'cos they get a lot of turnover. Fresh is always the best."
When you read Petley's book, it's hard not feel inspired to have a crack at gathering your own tucker. He shares some of his best hunting, diving and fishing yarns, having learnt to live off the land from a young age.
Putting his recipes and stories on paper together took about four months.
"I didn't think it would be as hard as it was. I thought I was going to cream it! But it's quite difficult having to test all the recipes.
"But most of the recipes in that book were already in my head, so it was just a matter or trying them out so that anyone could do them."
Keeping things accessible and uncomplicated was important to Petley.
"When I first started to cook I used to open a cookbook and read the recipes. I'd look at the ingredients and think 'Oh man, I don't even know what this stuff is!'
"But with this book you can go into a Four Square or supermarket and you'll find everything in the book to accompany whatever you've caught. It's good old Kiwi food."
One dish in the book stands out for him as a clear favourite - the Lamb's Fry.
"It's one of my favourites. I'd eat it every day if I could."
I had a go at Petley's take on an Italian Spaghetti Calabrese, with wild pork salami
and Kalamata olives. Instead of salami I used chorizo. It was hearty and rich and I'll be doing it again.
Ideally, I'll pull in a snapper this weekend and throw it into his fish curry dish. As Petley says: "It always tastes better when you've caught it yourself."
* We have five signed copies of Cameron's new book, Hunter from the Heartland, to give away. Enter below.
This competition is now closed. Thank you for entering. Congratulations to our winners: Claire Deakin, Deborah Challenger, Holly Sixsmith, Nikki Monahan and Karen White.
Kingfish with broccoli and blue cheese sauce
Kingfish2 × 200g kingfish fillets, skinned
salt and pepper
25g butter
cooking oil for frying
Broccoli & Blue Cheese Sauce
300g broccoli
1 wedge blue cheese, crumbled
200ml cream
pepper
1 lemon
You can use kingfish with the skin on and scaled, but score the skin across the width of the fillet about three centimetres apart to stop the fish curling up when you cook it.
Preheat oven to 180°C.
For the fish, season kingfish fillets with salt and pepper. Gently fry in butter and oil in an ovenproof frying pan for 3-4 minutes. Transfer to preheated oven to cook for a further 5 minutes. Take out and rest for 5 minutes.
For the broccoli and blue cheese sauce, blanch broccoli in hot salted water for 4 minutes then plunge into cooled water to stop any further cooking.
Place crumbled blue cheese and cream in a saucepan over a medium heat and cook until cheese melts and sauce thickens. Season with pepper and squeeze over lemon juice.
Place broccoli into bowls and pour over blue cheese sauce. Serve fish on top.
(Serves 2)
Hunter from the Heartland, published by Random House is available now for $49.99.