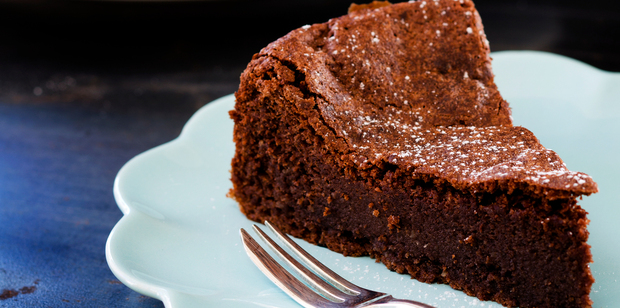 Serves 8
1 x 24cm spring-form cake tin
200g dark chocolate, chopped
180g butter
3/4 cup caster sugar
2 tsp vanilla extract
6 eggs, separated
1 Tbs cocoa powder
1 1/2 cups ground almonds
1 Preheat oven to 170C. Grease and lightly flour a cake tin.
2 Melt the chocolate over a saucepan of simmering water. Stir gently until the chocolate becomes smooth.
3 Cream the butter ,sugar and vanilla until pale.
4 Add the egg yolks one at a time with a spoonful of chocolate. Fold gently after each addition until the chocolate has been used.
5 Whisk the egg whites to a soft peak.
6 Sift the cocoa and ground almonds together. Fold all ingredients together.
7 Spoon into the baking tin and cook for 40-50 minutes or until a skewer is removed clean.