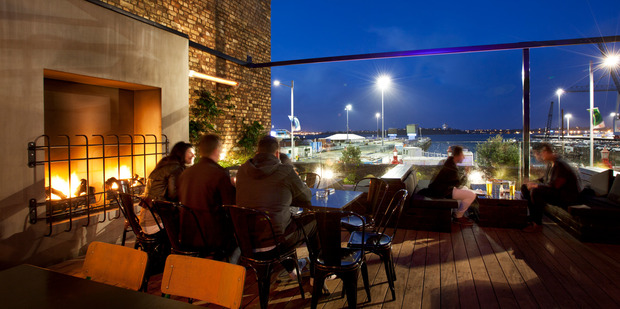 How lucky we are to live in the one of the most beautiful seaside cities in the world? And when all that pretty scenery makes you peckish, here are some suggestions for places to eat at the water's edge.
1. Tyler St Garage
120 Quay St. Ph (09) 300 5279. 11.30am-late.
The Tyler St Garage offers sweeping views of Auckland and the water, as well as cocktails, music and atmosphere. They do a great range of food, from small snacks to more hearty pizzas and platters, and the spiced apple doughnut with warm chocolate sauce and whipped cream is well worth breaking the diet for.
2. Harbourside
Ferry Building, Level 1/99 Quay St. Ph (09) 307 0556. Seven days a week, from 11.30am, (except Christmas Day), from 5.30pm public holidays.
Arguably one of Auckland's finest seafood restaurants, with dining indoors or outdoors for spectacular views. Features great lunch specials, midwinter feasts or a la carte dining. Whether you're after grilled john dory, roast king salmon or a more land-locked lamb shank, you can't go wrong here.
3. Waterfront Cafe
167-171 Quay St, at the Auckland Maritime Museum. Ph (09) 359 9914. Seven days a week, 9am till late.
The Waterfront Cafe is almost like being on a boat, without leaving land. Watch the sea traffic come and go, and even when the weather is bad, you can feel as if you're part of the elements. Take a turn around the Maritime Museum to build up an appetite. Perfect for families, tourists or locals.
4. Live Fish Seafood Restaurant
North Wharf, Wynyard Quarter, 39-47 Jellicoe Street, Auckland. Ph (09) 373 8872.
Live Fish could well be the only authentic Hong Kong-style alfresco dining restaurant in New Zealand. Using the freshest fish and produce, and no artificial flavourings, this is the place to come for crayfish, crab, paua, flavoursome soups and much more. And now they are also offering yum cha and winter hot pot menus. The coffee, beer and wine rock too.