Suzie Gregory sells lovely looking items. Here she shares some of the things she finds beautiful.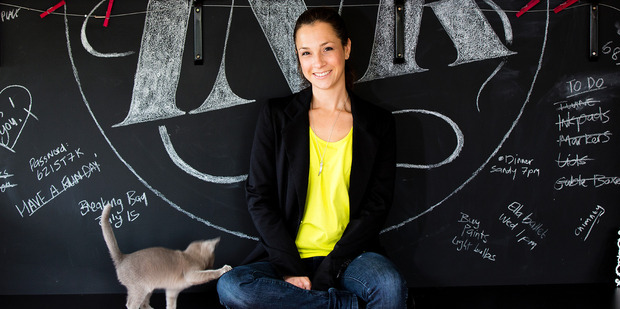 It's what's on the inside that counts, but nice packaging helps a little, doesn't it? A passion for "bits and pieces" inspired Suzie Gregory to launch Little Ink earlier this year, an online store that sells everything from bakery boxes and dainty loaf pans for presenting home-made treats, to grosgrain ribbon, floral tape, neon parcel tags, stamps and stickers for crafting. Hoping to encourage creativity, Gregory offers craft and entertaining supplies that she couldn't find here in New Zealand, as well as her own unique items. Gregory, South African-born and a keen traveller, previously worked as a jeweller manufacturer and graphic designer. She talks us through a few of her favourite things, from chalkboards to black pearls.
10 FAVOURITE THINGS
1. Chalkboard typography
Lately I can't get enough of chalkboard pens and typography. I especially love Dana Tanamachi's work. She has such amazing talent and was a huge inspiration in creating my own chalkboard wall in our home office.
2. Pixelated Beck painting
My husband painted this pixelated rendition of Beck's album Sea Change for our lounge last year. The album is an old favourite of ours and reminds me of our early dating days. I think it adds a perfect pop of colour to our home.
3. Canon EF 50mm f/1.8 Lens
I was given this lens as a Christmas present last year and it has totally exceeded my expectations. I use it to photograph everything from family, friends and parties, to my products. In my opinion, it's a definite "must have" for your camera bag.
4. Blogs
Out of nowhere I've ended up with a huge list of amazing blogs that I follow. Reading what inspires other people's creativity really fascinates me. They are a huge source of crafting and entertaining inspiration and I'm amazed by so many people's dedication to keeping them alive and interesting. Design Sponge, The Selby, Not Martha and Paper Crave are a few of my favourites.
5. Seletti "The Wise Chimpanzee" candelabra
I have collected a few Seletti pieces over the past few years but my favourite has to be my Wise Chimpanzee candelbra. He is the perfect "wow" centrepiece for our dining table.
6. Black Pearl pendant
About 12 years ago I sailed through French Polynesia and spent a bit of time in the Tuamotu islands. We met the most amazing family there who farmed black pearls. When we left they gave me this pearl which I have since had set as a pendant. It's very special to me as it reminds me of the memories and bonds I've created with friends throughout the world.
7. Baked: New Frontiers in Baking
I'm an avid baker and this is by far my favourite cookbook. I'm a sucker for pretty pictures and this book will not let you down, plus it has amazing recipes to back it up. The sweet and salty cake is to die for and the baked brownie recipe is the best ever, hands down.
8. Music
There is rarely a moment at home or in my studio when I'm not playing music. M.I.A, M83, Arcade Fire and The Smiths are a few of my current companions and a huge inspiration to me.
9. Villeroy & Boch Petite Fleur dinnerware
Every year my mum passes on a piece of her dinnerware collection to me. She has been collecting it for years and it has been used at our frequent family Sunday lunches. It holds so many wonderful memories of these special times spent with my family.
10. My daughter's artwork
I love watching my daughter doodling away at her art table. One of my favourite things is listening to her explain her masterpiece to me afterwards, in great depth. There is something magical about her expressions and that glimpse into a child's imagination.