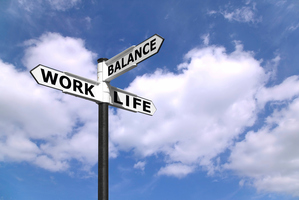 A good work-life balance should include a mix of staff working from home and from offices close to where they live. That's William Willems' view of office rental firm Regus.
Willems says when people work more autonomously, and have more time to spend with their families, then they will be happier at work and "that translates into greater staff retention" for the employer.
"Recruiting staff can be expensive and then you need to train them," he says. "A happy employee will bring stability to a firm as the company retains the talent. So helping staff obtain a good work-life balance is an important human factor."
Willems, the Australian-based regional vice-president South East Asia of Regus, says out of a global workforce of 3.5 billion, up to 1.2 billion people will eventually end up working under a flexible arrangement with their employers.
"That's a big step for business and one of the reasons why businesses such as ours, offering flexible office rentals, is doing so well," he says.
"In places such as Kuala Lumpur and Jakarta, where traffic is horrendous, Regus was able to attract people at a lower salary to work for us, people were prepared to take a pay cut because they could avoid commuting up to three hours a day by working closer to home.
"Providing workspaces where people live, along with flexible hours and the option of working from home, is helping firms cut costs and make staff happier. It is the way companies need to manage their people and their business.
"No matter what we say, the economy is tough, but qualified people, good staff, are still hard to find. So, if you can combine finding good people and retaining them by allowing them - to a certain extent - work the way they want, then that is worth a lot."
According to a survey funded by Regus, Kiwi companies may already be on the right track when it comes to helping staff. Regus' Work-Life Balance Index, compiled by research firm MindMetre, includes responses on job satisfaction from 16,000 senior managers in 80 countries. It shows employers are generally focusing on reducing commute times for their staff and are aiming to improve work-life balance for their people.
Results from the survey - which, for the first time, includes responses from people in New Zealand - shows that 31 per cent of local respondents say employers have introduced schemes to shorten their travel-to-work time since 2010.
The report features responses from New Zealand workers and shows employees are basically happy with their jobs, with the majority (74 per cent) saying they are happier at work today compared with 2010.
This is higher than in Australia where the 2012 "happiness" figures are 69 per cent, UK 60 per cent, the USA 64 per cent and France 65 per cent. Most of those surveyed feel they have better harmony between work and home life than two years ago.
"In a tough economic environment people work harder, but what is surprising is that 67 per cent of NZ workers are satisfied with their work-life balance. The global average is 59 per cent," says Willems.
"This is an overwhelming majority compared to the rest of the world. It is also important to note that 79 per cent of Kiwis say they are more productive, they are producing more today than in 2010."
Other findings in the survey show that since 2010 nearly half (48 per cent) of Kiwi employees have taken on additional duties during the global economic slowdown, which have not subsequently been picked up by a new member of staff.
Willems concedes that higher productivity may be linked to staff taking on the work previously done by redundant colleagues or by staff who leave and are not replaced.
"It is possible some of these people were under-employed, in that they didn't have enough work to fill their working week but, with fewer staff, companies are doing more. Every situation has a double-face. Technology has also allowed people to become much more productive.
"I remember that years back if I had too much work then I would have to drive an hour to the office on a Saturday to do it. Now I can sit at home on the computer and log in to the company network and continue as though I was in my office. I think technology is providing a much easier way to be more productive."
Willems says Regus sees an increasing trend in people working at home, but who need access to professional office space for meetings.
"People need to network with other people and have a place where business meetings can take place. To help develop and retain that corporate spirit."
The bottom line, says Willems (in case you hadn't noticed), is that New Zealanders are working harder now than two years ago and are spending more time at work.
"Our research is a significant reminder that if companies can move past the financial downturn business model that is results-oriented, but less efficient and adaptable, and encourage a work-life balance through flexible working, it will lead to happier and healthier employees who are more productive in their jobs - which, in turn, means helping to impact the bottom line," he says.
"There are many measures businesses are adopting to make employees improve work-life balance, including enabling workers to travel out of peak time, and to work outside the standard 9 to 5 hours to spend more time with family."