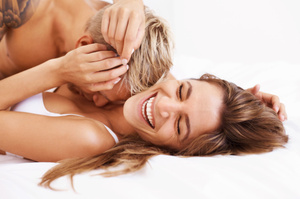 Most New Zealander's think they perform "alright" in the bedroom, while about 30 per cent reckon they're "excellent" love-makers, a new poll reveals.
In the survey of almost 1500 Kiwis, an honest 21 per cent admitted they could do better in the bedroom.
Despite their confidence, only 31 per cent said they were totally satisfied with their sex lives - in terms of quality and quantity.
New Zealanders have sex 133 times a year - most said they were getting action three to four times a week. The most popular time for a shag was in the morning, and Saturday was the favourite day of the week.
The most sexually active areas around the country were Tauranga, Gisborne, Palmerston North and Whanganui.
The average New Zealand woman has had eight sexual partners and men claim to have had six, according to the survey run by adulttoymegastore.co.nz. A fifth of respondents admitted they'd racked up more than 20 partners.

The average age for a New Zealand women to lose her virginity is 16, and a year later for men. However sexual confidence doesn't peak until nearly a decade later - first between 25 and 29-years-old, and again from 50 to 54.
- HERALD ONLINE