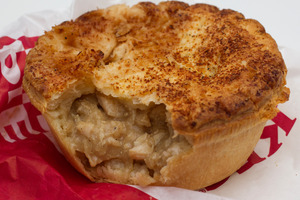 Yesterday the pie returned to fast food outlets across the country as KFC started selling its much-hyped, limited-time-only KFC Pie. Retailing at $4.50, the pie comes in one flavour only and is filled with chicken, KFC's signature potato and gravy and 11 herbs and spices.
Four Herald writers deliver their verdicts.
NICHOLAS JONES
Pie-lovers will not be disappointed in the KFC Pie, but those expecting a game-changer like the similarly-hyped Double Down will be left wanting.
The sheer genius of replacing bread with chicken fillets meant people either loved or hated the double-down.
The new pie will not provoke such a strong reaction. It is simply a solid chicken gravy pie - a journeyman.
Potato and gravy and 11 secret herbs and spices do occasionally give taste-buds the subtle recognition that this is supposedly KFC-in-a-pie.
But for some reason I expected the pie's chicken pieces (of which there are plenty) to be wrapped in KFC's signature deep-fried chicken skin. It was a blow I never recovered from.
CATHERINE SMITH
I love pies. My secret vice is KFC potatoes and gravy. I love the secret blend of 11 herbs and spices. Ergo, I should have loved the Colonel's new chicken pie.
And I did, kinda. The first bite - always the best part of the pie - was great. The pastry was crispy, short, and with a nice crumble. It was not a bit greasy, although a coloured sprinkle on top had me mystified.
The filling was good. The sauce was comfortingly like my much-loved ersatz potato swirled in gravy, not a dreaded gluey, grey flour filler, there were enough sizeable chunks of chicken (breast not thigh) to satisfy.
But halfway through the pie I twigged: where was the full spiciness of the Colonel's magic blend? That peppery, oregano-ey, fake-onion powdery-ness that I've never been able to replicate in my own kitchen?
With an eye-popping 1920 kJ (that's more than quarter of my recommended daily kJ intake), 761mg of sodium (my daily allowance is 920g) and 19g of fat (oops, nearly half my daily) I'm afraid this will be my once-in-a-blue-moon treat.
Add more fibre (peas? wholemeal flour?), replace salt and fat with herbs and spices and I'll be in.
ALAN PERROTT
I don't care about the 11 secret herbs and spices, what this bad boy really needs is salt and pepper.
Okay, the pastry was fine - crisp and not too thick - but the last thing KFC should ever be about is subtlety of flavour.
Make that absence of flavour - especially when it boasts the jewel in Colonel Sanders' menu: potato and gravy. All I got was a mouthful of mush without any of the sense of carefree self-harm you get from the Double Down.
We know pies and we know when something is appallingly bad for us, and this disappointed on both counts.
MARTIN JOHNSTON
This baby must be the "thick and chunky" of chicken pies.
It is nicely browned. But snap it in two, scrape off the chicken and very ordinary KFC gravy, and the stiff base - more of a base-plate really - measures a good 8mm.
I wondered what had happened to that lovely, light featheriness of good flaky pastry, expecting heart-attack food like a pie to be well packed with butter or meat-derived fats.
So I had to polish my spectacles and re-read the food facts on KFC's website: only 8.6g of total fat and 4g of saturated fat (the bad one) per 100g of pie.
By weight, that's less total fat (although more than three times the saturated fat) of KFC chips.
And the KFC chicken pie has less than half the quantities of total and saturated fat found in the random meat pie tested for Crop & Food Research's NZ food composition tables.