Architectural academic and author Julia Gatley champions mid-century design.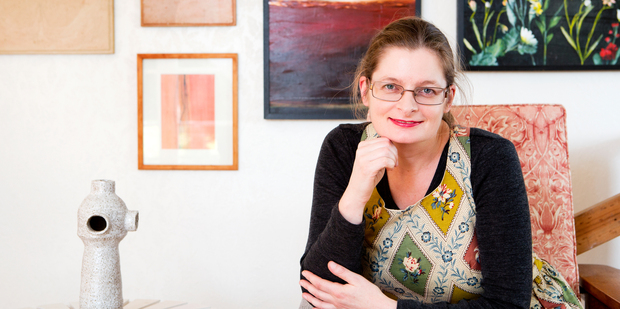 Knocking up a boatshed proved a seminal experience for architectural student Julia Gatley. At 21 she was invited, along with a dozen fellow Victoria University class members, to a working bee at architect Ian Athfield's bach overlooking tranquil Awaroa Bay in the Abel Tasman National Park. Like his Wellington home, the plaster-clad organic bach that resembles a predecessor to the village of Hobbiton was an experimental project where ideas of communal ownership and living were explored. While hammering nails and painting boards, Gatley was captivated by Athfield's ideas - and his affable nature. "He was very generous and open and a great storyteller. He explained his reaction against suburbia. His belief was that housing needed to be denser but with a greater sense of privacy than a line of detached bungalows could ever ensure, and also a great sense of neighbourhood or community."
That was 25 years ago and her respect for this dynamic figure, once considered radical but now the Christchurch Earthquake Architectural Ambassador, has never waned.
Gatley has just completed a book about "Ath" as he is affectionately known to his peers.
It's not the first thoroughly researched tome she's written about a subject dear to her heart. Inadvertently, Gatley has become New Zealand's foremost female editor of architectural books. Her two previous offerings - Long Live the Modern and Group Architects: Towards a New Zealand Architecture - sold out within weeks.
As a Senior Lecturer in architecture at the University of Auckland, she is expected to publish essays for an academic audience. But Gatley has managed to straddle the fence with her accessible, contemporary style. "I'm very conscious of wanting to reach a general readership," she says.
Fastidious, forensic research through archival material for her previous two books has made her an authority on (and accidental champion of) New Zealand modernism. Though mid-century architecture may be highly fashionable right now, Gatley came to love this era via a circuitous route.
"I graduated in architecture just as the stock market crashed in the 80s. There wasn't a lot of work so I went door-knocking and landed a job at the Historic Places Trust."
The trust's nationwide project at the time aimed to have a backlog of buildings researched and registered; Gatley did the Wellington work and also saw the reports submitted to Head Office by researchers up and down the country. This gave her a unique perspective on our built environment. "I learnt to appreciate the historical, social and cultural value of buildings rather than just focus on design."
A case in point is the first project she researched for the trust, the Karitane Products Society Building in Wellington, where infant milk formulas were made. It was designed in the 20s by architect William Gray Young. Although no longer a working factory, it has a stake in our social history and deserves its place in our heritage.
Gatley soon developed favourite architects such as Francis Petre who designed Christchurch's Catholic cathedral. "He loved Gothic Revival architecture but the Catholic church preferred classical forms," she explains. Still Petre was allowed to express himself more freely in the Dominican Priory in Dunedin, which dates from the 1870s and is important for its early use of concrete and abstracted Gothic windows.
During the mid-90s, when Gatley worked for the trust, their focus was on architecture pre-1940. "So, when I did my masters thesis, I decided to look at more 'modern' buildings to balance up my knowledge."
Her research began to take in Auckland from this time, although it was a further 10 years before she moved here. She still admires some buildings included in her masters thesis, those, like the Greys Avenue Flats, a block of concrete apartments built by the Labour Government in the mid-40s. Taking a cue from European modernism, the architects relished the opportunity to design high-density housing, rather than detached State houses, Gatley says. But Aucklanders were really opposed to the idea of medium and high density housing at the time. "That's because they provided accommodation for people other than nuclear families." There had been uproar when an earlier block of flats was limited to one bedroom units.
Gatley herself is in favour of apartment living. "Everyone expects me to live in a groovy 50s house." Until recently, home was a small space in central Auckland. With no car, she favours walking to the university or, on inclement days, taking the bus. But her work has changed her lifestyle. While visiting families of the Group Architects to research her second book, she struck up a romance. She has recently moved into a modest and much-altered Mt Eden cottage that her partner Jeremy, the son of one of the original members of the Group, Bruce Rotherham, has owned for 20 years.
It gives her the inside story on the much-admired Rotherham house in Stanley Bay, built in 1951, which featured a double-height volume and a dish-shaped mezzanine that floated through it. The "dish" cupped the master bedroom and there was no balustrade to secure it. "People would be horrified about that today but Jeremy enjoyed trying to walk up the sloping sides of the dish as a child." It was steep enough that it sent him safely back to floor levelrather than catapulting him over the side and into the open-plan living area below.
While other site visits to meet the owners pale in comparison, they nevertheless unearthed some fondly-told stories. "I met someone who had built Group Architects houses," explains Gatley. "He told me the neighbours at the time nicknamed the Group's Second House 'the Maori house' because it had a gabled porch like a meeting house." Group leader Bill Wilson responded by calling it the 'Pakeha house'."
Though Jeremy Rotherham is not an architect like his father, he has inherited some design skills. "He's always making something, or fixing something!," says Gatley. She's no slouch when it comes to carpentry either, due to an enforced stint in the workshop of Tasmania University where she taught for a while. It was here Gatley fashioned a replica of Finnish architect Alvar Aalto's "Daisy" table that sits proudly in the couple's Mt Eden living room. "I had no drawings to go off, just a photo. Later I discovered that the original was actually a garden table and a whole lot bigger."
Her coffee-table version fits nicely beside two William Morris-style chairs. They are upholstered in a Liberty fabric. "It's a new one but it is based on a William Morris design."
A wall of art behind this seating includes some gems rescued from London where Bruce Rotherham went to live and work in 1955. Rotherham was a typography enthusiast and designed his own font, called 'Wedge'. It's a passion he incorporated into artworks. The terracotta-toned paintings on pieces of wood are signed 'rotheram' - all in lower case and dropping to second 'h' so that the name read phonetically - which, says Gatley, was a very modernist thing to do. Other buys are from the Elam fine arts school end-of-year exhibitions. "There's one by Clare Kim who was signed by the Sanderson Gallery when she graduated," says Gatley.
Now she's finished the Athfield book in time for its launch in June, she can afford to take things a bit easier. Weekends will no longer be spent peering into archival material or visiting Auckland-based Athfield houses.
Most of the six or seven homes he designed in the city during the 70s are hidden down long driveways.
"He was one of the first to introduce ideas of sustainability and energy efficiency. He incorporated water collection, solar heating and composting into one of his 1970s houses."
The homes circle Auckland from the leafy West to coastal North Shore to east of Howick. Some sport his recognisable white-plaster aesthetic but others are timber or brick. A red-brick house in Titirangi was designed for an engineering friend from Christchurch Boys High School. It includes multiple floor levels, a barrel-vaulted ceiling and round windows made of a concrete drain pipe - forms typical to Athfield at the time. "He was often working with low budgets and believed in sourcing second-hand materials from other projects," says Gatley. He expected hands-on involvement from his clients. At the very least, they'd do the painting but often they could be found scavenging on demolition sites and painstakingly cleaning brick or timber for re-use.
This reflects Athfield's abhorrence of the 70s propensity to demolish buildings rather than re-invent them. Thankfully, says Gatley, that stance is changing. She's happy to have played a small part in raising awareness of our public, commercial and institutional heritage. And councils are taking notice.
"Twenty years ago local authorities didn't want to know about buildings from the 50s, 60s and 70s but now they are increasingly accepting them as part of our 'heritage'," she says. It only takes one or two local people actively talking about the architecture of any one place to make a difference."
And though her generation of architects has written about modernism, Gatley is hopeful her students will fly the flag for what came after - postmodern architecture from the 1970s and 80s." Any takers?
* The book Athfield Architects by Julia Gatley (AUP: $75) will be released on 15 June. The exhibition Athfield Architects: People and Place, curated by Julia Gatley runs from 23 June-7 Oct at City Gallery Wellington.