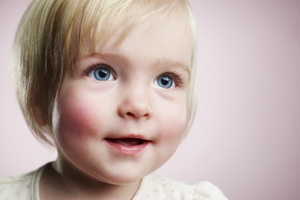 An opinion piece by Shelley Bridgeman on hot house parenting, Are you raising over-achievers?, was recently published on nzherald.co.nz. It referenced the Baby Signs programme as an example of this type of parenting. Far from the truth, the Baby Signs programme is based on over a decade of research and at its core, about baby communication and their relationships. Its origins come from the co-founder of the programme Dr Linda Acredolo and her own experience with her daughter Kate.
In 1982, Linda observed Kate at 12-months using a simple gesture to represent a "flower". This and other simple exchanges led Dr Acredolo and colleague Dr Susan 24Goodwyn to discover that using simple signs with non-verbal babies, helped them communicate with their parents.
"What we know about infants in their very first year of life is, they're very frustrated because they can't communicate," said Dr Acredolo.
"So by providing them with very simple signs, like the deaf community uses, we find that we can lower frustration and really make a bond that's warm and rich between parent and child."
As a family, we used baby sign language in our lives. We noticed that our daughter cried, screamed and had less tantrums than other children her age. She learnt that if she used signs, we would understand and respond. The first time she used a sign, it was for "sleep". We put her to bed, then discovered a little later she was asleep, almost an hour before her bedtime. It surprised us, and then reminded us that babies, like adults, like some control in their lives.
Also, like other signing parents we knew when our daughter was hungry, tired, scared and often when she was happy or unhappy. Once, after a nappy change she signed "nappy", "all done". I replied in my usual way, "Yes, we've changed your nappy, it's all done." She then continued to sign "nappy", "all done". A little perplexed at this, I decided to take her signs literally and I peeked into her nappy. Her signs, it turns out, were signalling her discomfort at her nappy needing to be changed - again.
As educators, we are passionate about families using the Baby Signs program as a way to understand their babies. If keen to try, start when your child is at a stage they can sign back to you, generally six-months and able to wave "bye-bye". Choose a
sign, make one up, or use one of ours like "milk"; open your hand then close, open again and close. Then sign consistently, always in conjunction with the word. Repetition is the key, so when the opportunity arises for the use of the sign and word, ensure you repeat it.
If wondering, can signing make a baby talk late - or less? Dr Acredolo and Dr Goodwyn wondered this too. Before the release of their bestseller book, Baby Signs - How to Talk to your Baby Before they Could Talk, they conducted a study sponsored by American's National Institute of Health; which proved the opposite. Babies were developing language at a faster rate than average. This result was unexpected and as Dr. Acredolo discusses, not the embodiment of the program,
"There's no doubt in our minds that the most important message for parents to know is that signing will help you and your baby connect in a richer way," she says.
"The social and emotional benefits to the family are really the most important advantage of signing with your baby."
After nearly 30 years in existence, this type of parenting will never be a fad, rather an unassuming approach to understanding your baby.
- Janine Burden, Director of Baby Signs New Zealand