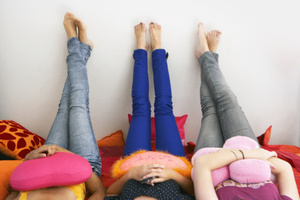 Skinny jeans could actually be bad for your health with warnings from a US doctor that fans of the leg-hugging denim could be causing serious nerve damage.
Dr Karen Boyle from the Greater Baltimore Medical Centre says she's seen a number of patients suffering from meralgia paresthetica as a result of their trendy clothing choices.
The disorder causes symptoms of tingling, numbness and pain in the upper legs.
Wearing high heels with skinny jeans apparently worsens the symptoms because tilting the pelvis increases pressure.
Dr Boyle's warned that if you ignore the pain and continue to wear tight jeans, you could end up with permanent nerve damage.