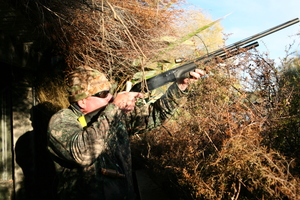 About 40,000 New Zealanders have had trouble sleeping for the past week. But after getting up early for the past two mornings they may get more sleep tonight.
Yesterday, at 6.30 in the morning, they were crouched in their maimais, scanning the greying horizon for the first dark shapes to appear. Ears were strained for the faint sounds of ducks calling to each other, the whistling of wings, dogs trembling against the leash bursting with anticipation.
It was the opening morning of the duck shooting season and throughout the country proud dads with youngsters, or with partners or bunches of mates, spent the day blowing their duck callers, making hot breakfasts on gas cookers and urging their dogs to swim out and bring back a bird.
This is a tradition that goes back generations to 1861, when the first season was announced by the then acclimatisation society. Today, it is managed by Fish and Game.
The income from sales of shooting licences - a season costs $88 for adults, $19 for juniors and $2 for children - goes towards managing the resource and developing habitats. More is invested privately in restoring wetlands, as 98 per cent of swamps in this country have been drained and converted into farmland and it is keen duck hunters who buy or lease blocks of land and turn them back into swamps, planting suitable trees and grasses which benefit a whole range of native birds, as well as the waterfowl.
Duck populations are carefully monitored by Fish and Game through programmes to band birds, do aerial counts and hunter surveys. There are about five million mallard ducks in New Zealand, and every year the population grows to more than nature can sustain.
The winter environment cannot support that many ducks and many die of starvation. Hunting bag limits and seasons are designed to harvest game birds sustainably and about 500,000 ducks, or 10 per cent, are shot each year.
Hunting pressure on birds in New Zealand is not great compared to, for example, the United States where daily limits are restricted to one or a few birds depending on the species. In New Zealand, it varies from 10 a day in Auckland and Waikato to 35 in Southland. There are strict regulations controlling game bird hunting and breaches can incur penalties of fines up to $100,000, and even jail terms.
Three-quarters of the Kiwi shooters hunt only on opening weekend. It's an occasion to get into the countryside and catch up with mates and to shoot for the table. They will take home some good quality, free-range meat, which is a seasonal delicacy. And under the annual Game Bird Food Festival the birds can be taken in to about 30 participating restaurants around the country to be converted into gourmet dishes.
Above is my special duck soup, a dish that always seems to find favour with people who have never tried wild duck before.