It's time to get the jars ready for some lovely fruity condiments to last year-round.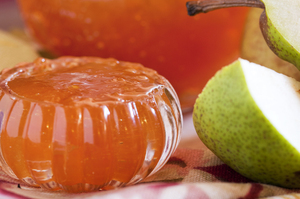 There is something incredibly satisfying about making, then sharing, home-made preserves.
With autumn's wonderful array of interesting fruits available, now is the time to capture the season in a jar so it can be enjoyed when the fruit themselves have long disappeared off the trees or shelves.
This week, I've made jam, jelly and a paste - and though these do take a bit of effort, just visualise spreading the jam on warm toast at the beginning of the day or serving the paste with a divine blue or aged cheddar later on with your evening drink.
Jam is made by cooking the fruit together until it creates a spreading consistency, while jelly needs fruit juice strained through muslin or a jelly bag before being boiled with sugar to create a clear result. To make a fruit paste takes a few hours of cooking the fruit until it is well reduced before spreading in an oiled pan and leaving overnight. It should then have a firm, almost sliceable, consistency.
I love the flavour of feijoas and, like quince, they are in season for a short time so this is a great way to make the most of your backyard bounty or if you find them at a reasonable price in your local fruit store.
Quinces are an ancient fruit and rather odd because they can't be eaten raw, but are full of pectin which makes them ideal for a slow-cooked paste. Gentle cooking transforms the inedible hard texture to a ruby coloured sweet flesh which is delicious with lamb, pork or duck or in a salad with wilted greens, feta and pistachios. Thin slices can be pan fried but the colour does need to change before the fruit is edible, which takes time, so making a paste is a worthwhile way to spend an autumn afternoon.
Chef's tip
To sterilise jars either heat in a 130C oven for half an hour or place in a saucepan, cover with water and boil for 15 minutes.
Check out our other jam recipes:
* Pear, brown sugar and orange jam
* Check out Viva's brand new Facebook page, the place to find out what's hot in fashion, beauty, food, wine and design.
What are your favourite jam recipes?