Camellias add a burst of colour to brighten up winter, writes Justin Newcombe.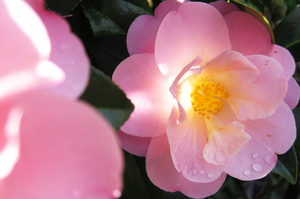 Camellias might not be your cup of tea but if you're a tea drinker then that's exactly what they are.
Tea is made from a camellia, although that's not what most of us picture when we imagine a camellia. These colourful, dandyish flowers are both delicate and bold; so luxuriant that on a grey day they can hover almost hallucinogenically off their thick, dark green canopy. They are great for hedging and happy in semi-shade, so can can fill some pretty tricky garden spots. Just when you thought the only thing the winter garden had to offer was mud and brussels sprouts, the camellia comes and cheers you up with a big old "Da Daaa" of flowers, enough send any budding romantic into a tailspin.
You won't be surprised to learn that camellias originated in China and various other parts of Asia, notably though in the coastal areas of Japan, which provided the nursery for many of today's most popular varieties. There are thousands and thousands of different camellias but choosing the right one for the right spot is probably the most important thing to think about.
Sasanqua, which developed out of Japan, generally speaking, has a smaller leaf and is often used for hedges. Good in semi-shade and responsive to trimming, sasanqua provides a beautiful backdrop to any garden all year round. My personal favourite is sasanqua setzaguka which has a crisp white tissue-like flower; with some gentle persuasion, the bush can be espaliered. A word of caution though, camellias are not natural bedfellows with the notion of espaliering, so make sure you pick the right spot. Adequate protection from sun (but not full shade), plenty of water and a good free-draining soil are all a good start. Trim the plants carefully with sharp secateurs making sure you remove old or damaged wood and anything that will cross over other branches, which will result in damaged buds. Also trim so that the buds face up, displaying the flower at its best. When espaliering I like to encourage only one trunk and remove any competing laterals. For larger spaces plant more than one plant and keep the branches short. This keeps the plants focused and ensures the best quality flowering from each one.
Sasanquas are also good as specimen camellias in an open garden situation, especially for a formal clipped look. Or look for camellia japonica and reticulate as well. Many of these will handle the sun with relative ease and become a colourful winter essential. For small hedges camellia sinensis is a tough rich green colour with small leaves perfect for clipping. It's also the tea camellia, so now you can have your hedge and drink it too.
Camellias are often touted as loving acid soils but that's actually a bit of a myth. They do like a light acid soil but will turn up their toes at an acid overload, so look to use slow release fertilisers and plenty of mulch and try not to grow your lawn right up to the trunk. If your soil is excessively lime then you may want to introduce a little more fertiliser, but in most instances dressing camellias with garden lime is beneficial. Yellowing leaves can be treated using Epsom salts which supplement the magnesium lacking in most New Zealand soils.