Auckland is bursting with eateries keen to attract a younger clientele.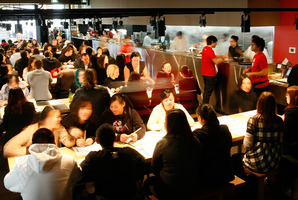 1. Wagamama Kids Eat Free Weekends
Kids eat free at all Wagamama stores from 12pm to 5pm every Saturday and Sunday. The minor in your life can choose any one thing they like from the kids' menu when one other main full-sized meal is purchased. Stores can be found in Newmarket, Sylvia Park and High St. Portion sizes are ideal for 8-years-old and under, dine-in only.
2. Malt House Greenhithe. Kids Eat Free Thursday Nights
The Malthouse wants to see your little ones on Thursdays where, between 5pm and 9pm, they can order a meal from the kids' menus for free when their grown-up orders a main meal. For under-13s only. It's ideal for a family night out. Ph (09) 413 8651.
3. Bricklane, New Lynn. Kids Eat Free Monday Nights
Again the standard deal, for every adult main meal purchased, a child can pick a free kids' meal. The offer is available for those up to 12-years-old. They also provide colouring pages and crayons, which means you might get to enjoy a sip of wine in peace. Ph (09) 826 3654.
4. The Drake, Auckland Central. Kids Eat Free Saturdays, 11:30am-6pm
Again, with every main meal purchased the nipper is given free rein to order something off the kids' menu, just on Saturdays. Plus they also receive a free soft drink or juice and a free sundae. Ph (09) 307 3220.
* Terms and conditions apply. Contact the eateries or visit their websites for more information.