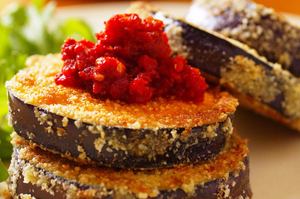 Acting the goat
Grilled eggplant was just made to pair with feta cheese. Barbecue or quickly pan fry slices, serve with a deeply flavoured goat feta as an appetiser. Or make a "sandwich" stack with roasted veges layered with crumbled feta.
Dippity do
Eggplant is the basis of baba ganoush, but a simpler version is to blend roasted eggplant, onion and peppers with a dash of tomato paste and salt and pepper to taste.
Get stuffed
Scoop flesh out of lightly steamed eggplants, chop through with lamb mince, onion, tomato (or paste), spices and pile back in the case. Top with plenty of grated cheese and bake in hot oven for 20 minutes.