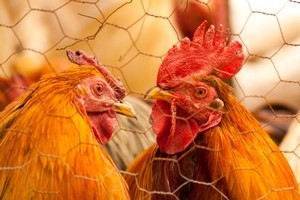 Last Tuesday, in an article entitled Hens left to die on empty farm, it was reported that an egg farmer abandoned a Martinborough farm "leaving hen houses thick with filth and scores of dead chickens." Then on Friday Wendyl Nissen chatted to Good Morning's Rod Cheeseman about farming your own eggs, while one of her hens sat happily on her knee.
Talk about opposite approaches when it comes to the treatment of animals. Nissen pats her chickens, names them and feeds them bespoke nutrition. At the other end of the spectrum, millions of battery hens are treated like egg-producing machines rather than the sentient beings they are.
Battery chicken farming is a serious animal welfare concern in New Zealand. According to Hans Kriek of Save Animals from Exploitation (SAFE), 88 per cent of eggs in this country are still derived from battery farms. Despite growing awareness of the grim plight of these caged animals, it seems many of us are unwilling or unable to follow through by making ethical choices at point of purchase.
Kriek says that Mainland Poultry, with a reported 400,000 battery hens, is our largest operator. In January, Kriek wrote: "Mainland Poultry prides itself on having high standards but in fact conditions are appalling on this farm. Their hens are kept in windowless sheds inside tiny cages where each hen has less space than an A4 sheet of paper. Cages are stacked eight high and each shed contains around 45,000 hens. The welfare code... requires farmers to inspect all their individual hens on a daily basis. Mainland Poultry has one person looking after two sheds (90,000 birds) making it impossible for the birds to be inspected properly."
The Animal Justice Fund (AJF), which focuses on animal cruelty associated with factory farming, says there are 3.2-million egg-laying chickens in New Zealand. "Factory farming remains the greatest source of animal suffering in New Zealand, impacting on nearly 100-million animals (pigs, chickens, ducks, turkeys and rabbits)," says AJF which adds that because male chicks are not required by the egg industry "[a]bout three million one-day-old male chicks are killed each year by gassing or maceration". It's enough to make a vegan out of almost anyone.
The AJF goes on to say that the Ministry of Agriculture and Forestry "currently employs only five animal welfare inspectors nationally". In an attempt to counter this woeful ability to monitor conditions, AJF is encouraging farm workers to notify instances of animal cruelty and is offering up to $30,000 for the provision of information that leads "to a successful prosecution or a significant animal welfare outcome."
Judging by the sunny and cheerful look of the Egg Producers Federation website, you'd never guess their industry is dominated by dubious farming practices. "Kiwis love eggs!" the site proclaims. "In 2010, New Zealand produced 1-billion eggs and the average New Zealander ate 230 eggs during the year!"
According to an April 2011 report entitled Egg Consumption: Trends and Attitudes in New Zealand, the average retail price for a dozen caged eggs is $3.03; for a dozen free range it's $6.42. So with free range eggs very roughly twice the price of caged, I've hatched a brilliant plan. For the same annual outlay on eggs we could all reduce by half the quantity we buy each year but ensure the ones we do buy are ethically farmed. It's a strategy I've been following for years.
My theory is that greater demand will lead to an increase in the number of providers of free range eggs which in turn - with economies of scale and more competition - would see the price of free range eggs drop. It sounds simple to me but maybe there's a crucial flaw to that logic.
Lucy Lawless' recent arrest for her protest against drilling for oil in the Arctic made me consider what issues I might be prepared to go the extra mile for. I'm thinking that liberating battery birds from inhumane conditions just possibly could make it onto my bucket list.