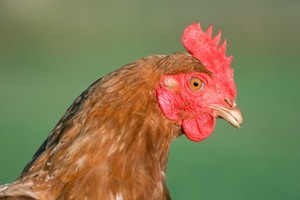 An egg farmer has escaped prosecution after a Martinborough farm was abandoned - leaving scores of dead chickens behind. Photo / Thinkstock
An egg farmer has escaped prosecution after a Martinborough farm was abandoned, leaving hen houses thick with filth and scores of dead chickens.
The dead birds were discovered after a neighbour complained to authorities about the farm.
Glenn Bunny, South Wairarapa District Council group manager planning and environment, said an inspection in January revealed up to 50 chicken carcasses.
The dead birds were scattered around two large hen houses, which were full of dried pumpkin shells and chicken manure in places up to 20cm deep.
Mr Bunny said there were only six live hens seen, but there may have been more in nearby bush, and the birds had "obviously not received care for several months".
The property was in breach of its resource consent, but Mr Bunny said those breaches were secondary to the welfare of the animals. "It wasn't a pleasant thing to see," he said.
The council asked Wairarapa SPCA to launch an investigation, but later complained to the regional inspector about the lack of action by the local office.
Mr Bunny said SPCA Wairarapa manager Val Ball reported that the property owner had planned to cease his operation and shift the chickens off site about six months earlier "but did not follow up".
"It took Val a week to get to the site, where she removed about 25 live birds and said she did not plan to take the issue further," Mr Bunny said.
Regional SPCA inspector Lloyd Warren visited the site after being contacted by the council, and confirmed that the owner had removed the carcasses, but said it was too late for the SPCA to consider prosecuting the farmer.
Ms Ball did not want to comment yesterday and referred questions to Mr Warren. He and SPCA national president Robyn Kippenburger did not return calls.
A Hinakura Rd neighbour told the Times-Age that the farmer had been harvesting eggs from up to 1500 chickens at the 7.7ha property, about 12 km east of Martinborough.
Edie Coulson, who with husband John has worked their Erin Hills farm for 23 years, said the owner had bought a subdivided section across the road two or three years ago.
She said he was a middle-aged builder from Wellington and had quickly established the beginnings of a chicken farm on the property. The couple had not opposed resource consent for the operation.
"He was all enthusiastic and he had the chooks up and running. We thought he was going to graze the land, look after the land. He was doing the eggs and everything.
"A thousand eggs a day he said he was collecting. He had up to 1500 chooks at an early stage - he got them in two batches," Mrs Coulson said.
She said the couple had not seen the owner since at least August last year.
The couple had not realised anything was amiss, "because we didn't know he'd abandoned the land" although their suspicions grew, as did concerns of other neighbours.
"There was always hawks, sometimes up to 15 or 20 just circling. I don't know if they were getting the eggs or the chickens but there were a lot of rats over there too," she said.
"A lot of the chickens got killed on the road since he left.
"They were always getting skittled.
"When the big snow came in August, a lot would have died then too."
The Hinakura Rd property is now listed online for sale at $310,000.
The property owner could not be reached for comment.
for more articles from this region, go to WAIRARAPA TIMES-AGE