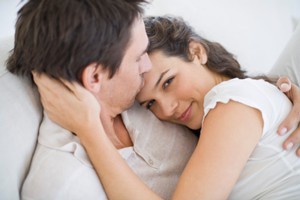 At the strike of midnight on February 29, 2004, an alarm went off on a New Zealand man's mobile phone. His girlfriend of two years, Jo McFadden had set a reminder reading: "Will you marry me?"
"He was like, sure, I think so," McFadden says, laughing.
"He always said he'd proposed once before and it hadn't worked out. So he had a 100 per cent failure rate and it wasn't going to happen to him again."
When she found out the leap day was creeping up, McFadden decided she'd go for it, knowing the tradition that every four years, when a leap year rolls around, it is not considered bad luck for a woman to propose to her man.
Auckland woman, Julia, took her man, Kurt, to a hotel in Tauranga after work on February 29, 2004.
"He didn't know about leap day but he'd heard about it on the radio. When I got home from work he was really nervous ... but I totally put him off," she says.
Then in her late 20s and studying at film school, Julia made her Star Wars fan boyfriend a movie. She superimposed her face on Princess Leia and his on Hans Solo. The movie opened in typical Star Wars fashion with huge text scrolling across the screen giving a bit of background. In the final scene of her home-made flick, Leia popped the question and Kurt had to respond using the yes or no option on the hotel remote control.
"I knew that he'd say yes," she said.
"[After eight years together] I'd been waiting for long enough," Julia said.
"He wanted to buy this really fancy ring and I just knew it was going to take forever ... I didn't really care so much about that."
"I don't see anything wrong with women proposing any day of the year."
According to the legend:
During the 5th Century in Ireland, St Bridget complained to St Patrick that women had to wait for too long for a man to propose, and so he decreed that ladies could ask a man to marry them on the last, extra, day of February during a leap year. Traditions have varied across countries, but in Scotland a law was passed in 1288 which said that a man who refused a proposal would have to pay a fine, of either a kiss or money towards a silk gown or pair of gloves.
* Ladies, would you propose on a leap year? Lads would you like your lover to pop the question?
Follow Life & Style editor Nicky Park on Twitter.