Pretty petals can brighten up your food, not just your garden.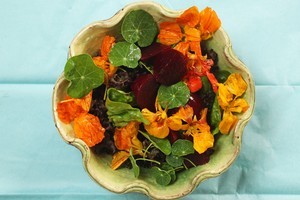 Sounds a bit hippie, don't you think, flowers in your food?
In fact, flowers have featured in our dishes since Tudor days and probably prior to that. Salads of the times featured many edible flowers, some pickled, others candied, as well as fresh blooms strewn on tables as decoration. Recently I watched a television programme about Elizabethan food. Their salads were probably the only things we would have wanted to eat.
When you think about it, vegetables and herbs all grow flowers (and these are all edible) and many other plants in our garden produce leaves and flowers that can be eaten or used to brighten up a dish.
I have one rule about garnishing and decorating plates: whatever is on the plate should be edible. So if you are not sure about the food safety of something don't put it on the table. This especially goes for that shiny Angelica.The true Angelica has a dull leaf, the shiny one should not be eaten.
Without having deliberately planted any edible flowers in my garden, I just took a wander and found these: citrus, marigold, nasturtium, rose, geranium, pineapple sage, rosemary , thyme, borage, lemon verbena, lavender, courgette, bean flowers, violets, pansies, chives, seed heads of parsley, fennel and coriander.
I saw the flower of my garden nemesis, onion weed, being used by chef Michael Meredith as a plate garnish at a salubrious function. There's no reason not to. It is from the same family as chives, garlic and onions, but I smiled, thinking about how many times I had cursed this bloom.
I borrowed a book from the library called simply Edible Flowers by Kathy Brown and it inspired these ideas.
Summer salad
Pick a good handful of young nasturtium leaves and flowers. You could also include a few flower buds. Snip back the nasturtium stems, pluck some flowers apart so you have flowers and petals to use.
1 Boil some beetroot. Use baby beetroot if possible; even better would be a mix of baby red and yellow beetroot. Once tender, run the beets under cold water and remove the skins. Gloves will stop your hands staining.
2 If using larger beets, cut them into chunks. If small enough leave the baby ones whole, or cut in half.
3 Make a base of salad leaves. Bright greens and dark reds look good when combined with the nasturtium leaves.
4 Arrange the beetroot in among these and then randomly, or in an orderly manner (depending on your disposition) decorate the salad with the flowers and petals.
5 A simple dressing of olive oil with a little orange juice and balsamic vinegar is all that's required. If you have walnut oil it would make the salad extra special.
* Grant Allen, a former restaurateur, runs an Auckland bespoke catering service called COOK. See Grant's Facebook page here.