Mexican food always pleases and is suited to summer.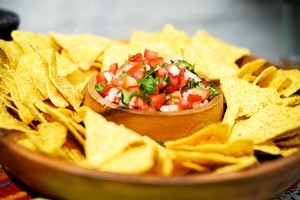 When I decided to cook Mexican food, I asked Grace Ramirez to show me how. Ramirez took part in the first American series of MasterChef and, although she is Venezuelan. she says she is Mexican at heart because of the amount of time she's spent in that beautiful country. She is also gorgeous, gregarious and great fun.
Ramirez had spent more than a decade working in the TV industry before her participation in MasterChef, which in turn led to her being awarded a scholarship to the French Culinary Institute in New York.
She recently arrived in Auckland to live and, like me, has been hosting kitchen workshops at Cook the Books bookshop in Grey Lynn. All foodies love sharing their food experience, ideas and recipes, so I knew she wouldn't mind if I asked her about Mexican flavours (a small part of her food repertoire). She generously came over and made the food that we now share with you. Ramirez is the kind of chef who considers herself a passionate cook. She loves bringing people together and feeding them well. She is proud of her heritage and enjoys cooking Latin food and showing people that it can be made easily with local ingredients.
"Latin food and flavours remind me of home, food was what brought my family together," says Ramirez.
"My grandmother is my greatest teacher and inspiration because she is the kind of cook capable of luring a large and dysfunctional family to her home every Sunday."
Go shopping, call a bunch of friends and use these beautiful summer days to stage your own fiesta.
Pico de gallo
Also known as salsa fresca, salsa bandera or salsa Mexicana. Taste this and you will never buy a jar of prepared salsa again. It takes as long to make as going to the supermarket to buy it, so start chopping.
Serves 6
4 seeded tomatoes
1 cup of onions
1 bunch of fresh coriander
2 tablespoons of lime juice
salt and pepper
1 Chop the tomatoes and onions into small dices. Finely chop the coriander.
2 Mix all the ingredients. Add salt, pepper and lime juice.
3 Cover and chill for at least 30 minutes until flavours blend.
The salsa can be made in advance and will hold for up to 4 hours. You can also add whole kernel corn if desired.
Supplies
Mexican Specialties: 92 Marua Road, Ellerslie, Auckland, ph 09 580 2497.
For enquiries about cooking classes with Grace or Grant click here.
* Grant Allen has been a professional cook for 30 years. He works as a caterer in Auckland. Visit his Facebook page here.
What are your thoughts on Mexican fare? Any delicious recipes to share?