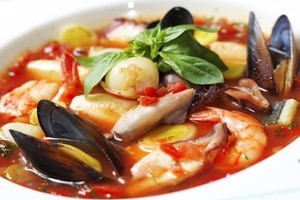 When I write about cooking on board a boat, I confess I am thinking more about being moored in some quiet bay, another friendly boat or two in the vicinity and a good catch from the sea about to be hauled on board. As a fair-weather sailor, with very poor sea legs, I confess I am not thinking of days and weeks crossing vast tracts of ocean with only a handful of dried comestibles and a bottle of rum to sustain me.
Boat cookery is much like camp cookery, a matter of planning a bunch of interesting meals with a very limited pantry of common ingredients. We can't all be Simon Gault cooking for Larry Ellison on his luxury yacht. But that said, Gault has told us his fail-safe cookbook on board was a battered copy of dear old Edmonds. Pack that, get some core provisions to make all that kai moana shine and you should be as good as our Simon.
As with camp cooking, your first few days of on-board meals will make the most of the fresh, perishable ingredients - meat, vegetables and fruit. When fridge space is limited, think of foods that can survive without modern deep chilling. Eggs and cheese can keep surprisingly well outside of a fridge (as they did for our ancestors for hundreds of years), hard dried salamis and well-spiced sausages can be hung somewhere cool and dry.
Jars of good deli items such as olives, artichokes, peppers, cornichon, capers and dried tomatoes can rev up a platter or stir-fry, while mustards, soy and chilli sauces and a couple of full-flavoured oils will rev up your cooked dishes. Purists may snort at preservative-crammed jars of mayonnaise or peanut butter, but they'll last outside the fridge.
Cook once, eat twice
Don't let leftovers linger. Add chopped herbs, veges, smoked or tinned fish to leftover mashed potatoes, shape into patties and fry for fish rissoles. Cold whole potatoes go into a potato salad (that's where the capers and gherkins come into their own), or the chopped potatoes, sweet-corn cut from the cob and chopped celery form the basis of a chowder. Slice leftover steak or chops from the barbecue and toss through a fresh salad with a spicy Thai-inspired dressing. Crumble leftover hamburger patties in a pot with some canned tomatoes and cannelloni beans, add Mexican-spices and pile into taco shells with chilli sauce and chopped lettuce, avocado and tomato.
Soupy mix
Whether you make it into a creamy chowder, a garlic bouillabaisse or an Asian concoction of your own invention, seafood suits being piled into a generous pot of soup. Provision yourself with concentrated fish, vege or chicken stocks (boiling your fish bones and leftovers to make your own stock is not friendly to your shipmates), long-keeping garlic, onions and ginger and build up a stewy broth. With rice you've got a sloppy paella-ish dish, or add instant noodles to make a comforting broth.
Hung out to dry
When the fresh fruit has run out, liven up the taste buds with dried fruits (dates, cranberries, apricots and raisins are standbys, plus stock up from the bulk bins with more unusual ones such as mangos, pineapples, apples and pears). Good as a snack with nuts, they can be soaked in rum (go on, you're bound to have some on board), or simmered in fruit juice or a honey syrup for a fruit compote pudding. Look for things such as dried banana chips as a sweet change from salty chips.
* Catherine Smith is editor of Weekend Life and a member of the Food Writers' Guild.