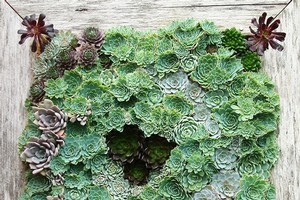 Baby Toes, Tiger's Jaw, Crow's Claw and Turks Head all sound more like an anatomy list for a scientist than a nursery wish-list for a gardener.
But these plants belong to the succulent family.
They're great for the dry weather as they store water in their leaves, stems and roots.
One of the benefits of succulents is they thrive with a minimum of fuss, however they still need to be cared for like the majority of plants.
In summer, succulents need a bit more looking after, says Judy Horton, author of Yates Gardening Guide.
"Some of them will need a mixture of watering and feeding, so don't take them totally for granted," she tells AAP.
But, she says, they are pretty tough and wonderful plants mostly.
Graham Ross, a gardener on Seven's Better Homes and Gardens, says we should treat succulents with total ignorance and forget all about them and they will reward us.
"The reason they're called succulents is that they're 95 per cent water and a lot of people think 'it's hot, I'm watering the roses, I'm watering the vegies, I'll water the succulents. Don't, because most of them actually survive with one storm in summer.
"At the moment, our succulents in the garden, our cactus, are being watered by the rain.
"They actually won't need any water now for the next six months so be really careful not to overwater succulents. In fact I'm a little inclined to say don't water them at all."
You do have to watch out for problems such as scale insects, however, which they are prone to.
"If you don't get in control of them early on, they spread really, really quickly," says Horton.
Ross says scale is a result of humidity.
"Along the coast our humidity is very high, especially over the next couple of months and that scale that I mentioned, there is one that attacks succulents.
"It's a little brown scale and people need to be aware that they might need to spray with one of the horticultural oils, either eco-oil or pest oil for the scale."
Ross says they are desert plants in the main, from areas including the Mojave Desert in California and deserts in Central America.
Home gardeners can start growing succulents at any time of the year but Horton says it is easier to plant them now rather than in winter.
Summer is also a good time of year to take cuttings of succulents.
You can plant them in hanging baskets, where many other plants don't survive in dry weather.
"Australia is the worst place in the world to grow hanging baskets in summertime because they get so hot and bothered they don't survive, but you can make a wonderful effect by putting succulents in a hanging basket and things like that ..." Horton says.
Kids are growing succulents too, Ross adds, and for a lot of them this is their introduction to gardening.
They are also back in vogue among more experienced, mature gardeners.
"The nice flowering cactus, Queen of the Night, these are very popular in gardens today," he says, "but people tend to treat them like the rest of their garden when in fact they are built-in ignorance plants."
He advises feeding them with fertiliser once a year.
"I tend to use controlled-release fertiliser for succulents because they slow-release and they will feed over three to six months and succulents and cacti like it that way; they don't like that huge boost of fertiliser."
- AAP