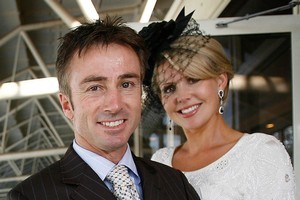 Boxing day to some is about recovery - feasting on left-over Christmas ham, watching the cricket and chilling out after the chaos of Christmas. But there are plenty of punters who get in to gear and trot off for a day at the races.
A day at the track is as much about the fashion as it is about the horses. Stylish racing personality, Bridgette O'Sullivan, says this season it's all about being bold and colour blocking. Think pink, bright orange or firey reds and considering clashing colours by adding accessories that pop. Try teaming a fuchsia frock with an electric blue clutch. But keep footwear nude and wear the highest heel you can stand.
"If you're going to the races you should leave the course how you entered the course," says O'Sullivan, the wife of former NZ champion jockey, Lance O'Sullivan.
"You see ladies with their shoes and their hats in their hand - it's just not a good look."
"I think race day should be traditional and classy.
"Be more tailored [like] Jackie O."
A races ensemble is not complete without headwear, and O'Sullivan says structured hats or "hatinators" are spot on this summer - think Victoria Beckham at the Royal wedding earlier this year.
"Gone are the days of a flimsy little bit of fluff on the head," O'Sullian says.
Auckland milliner Diane Dudley agrees.
"People aren't scared to have something quirky," she says.
"Everyone wants to be different. They're really sort of working towards their own personal style."
"It's more artistic millenary with flare."
- HERALD ONLINE