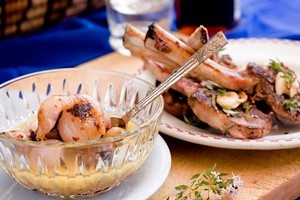 Makes 1 1/2 cups to use with lamb
Serves 4
1 cup cranberry cider
1/4 cup olive oil
1 small red onion, finely sliced
2 cloves of garlic, finely sliced
3 tsp of fresh thyme
2 bay leaf
6 black peppercorns
2 tsp salt
16 lamb cutlets
8-12 shallots - depending on size
Olive oil
Salt and freshly ground black pepper
Extra fresh thyme
1 To make the marinade; combine the ingredients then pour into a deep dish.
2 Add the lamb and leave to marinate for at least 2 hours.
3 Peel and cook the shallots on the grill until tender, season.
4 Remove the lamb from the marinade and grill for about 3 minutes on each side before serving with the shallots and extra thyme.