Meadowlark's Claire Hammon usually focuses on jewellery, but now she's branching out into very cool babywear.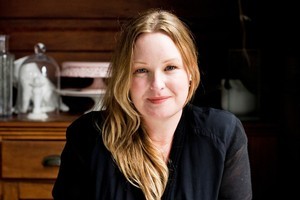 A broken heart, sad face and a Bret Easton Ellis reference aren't the sorts of things you'd normally associate with babywear, but the new collaboration between Meadowlark's Claire Hammon and the label Jimmy D is adding some dark humour to the kidswear market.
Babies and Monsters - also known as B.A.M. - is the new label from Hammon, whose début is marked by a collaboration with Jimmy D's James Dobson. Short-sleeved tees ($59) and long-sleeve ($59) and short-sleeve onesies ($69) feature iconic prints from the Jimmy D archives: the sad face print from the current summer collection Buzz Kill, the broken heart from 2007's Everybody Loves Nobody Sometimes collection, and, from 2006's Somewhere Along the Way We Got Lost, the slogan "Gloom Rules" - a reference to Easton Ellis' Less Than Zero ("Above the sink, on the mirror, someone's written in big black letters Gloom Rules").
These are for very cool children only.
Hammon, who established jewellery label Meadowlark in 2006 with her partner Greg Fromont, decided to start B.A.M.
about 10 months ago after having daughter Gigi and not being able to find much that appealed.
"I prefer the aesthetic of Scandinavian and French kids' clothing, and there is nothing like it here. I just wanted to do something a bit less babyish, and more like what I wear," she explains.
"I wanted to offer something a little darker for babies, nothing too cute and using lots of black and white and other darker shades."
"We were both over how cutesy and pastel-coloured childrenswear is," says Jimmy D's James Dobson, "and decided it was time to give kids an option to dress as cool as their mums - or dads!"
The pair are close friends, and Hammon had been trying to talk Dobson into making tees for babies for a while, so the partnership seemed natural. "Plus I wear Jimmy D all the time so it was an obvious choice."
As well as the initial collaboration, Hammon will also be producing bloomers, leggings and "a really cool alternative to fairy wings", all in limited runs for ages 3 months to 2 years.
* Jimmy D 4 B.A.M. is stocked in Auckland at Children of Vision, ph (09) 379 8930, and in Wellington at The Service Depot , ph (04) 499 7697, and online.