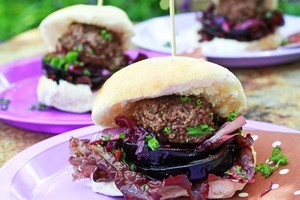 1 Season venison mince well with salt and pepper. Squash in small cubes of soft butter (your hands are best for this). The venison is so lean it needs a little help to keep it moist. You can add an egg to bind the mix but you probably won't need to.
2 Form into patties and chill in the fridge.
3 Slice some eggplant cross ways and marinate in some oil. Finely dice red onion and shred red cabbage.
4 Saute the onion in a little oil and butter until tender, add the shredded cabbage (you could also add grated raw beetroot at this point). Add a little water, honey, red wine vinegar and a dried red chilli. Cook gently until all is combined and softened down.
5 Remove the chilli and if you like add some pomegranate seeds.
6 Seal the patties and cook the eggplant slices on the barbecue.
7 Finish cooking the patties in the oven or wrap in tinfoil to keep moist and sit to the side of the grill.
8 Slice a bun or bap. Spread with mayonnaise. Stack with red leaves, a slice of eggplant, the red cabbage and the venison patty. Enliven this red feast with a generous amount of freshly chopped parsley.