Grant Allen found venison and finds is readily available in stores and very versatile.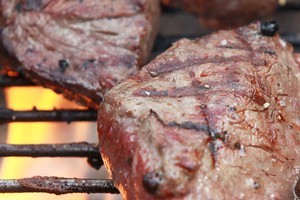 Inness Moffat of Deer Industry NZ asked if I would be interested in writing about venison. My first question to him was "how is easy is it to buy?", because I had not seen it on offer very often. He put me onto Silver Fern Farms products, which I found in a New World supermarket, all well packaged and ready to cook. Since then I have seen it in other outlets - I just don't think I'd been looking for it before, but venison is out there ready to buy.
Silver Fern Farms is 100 per cent owned by New Zealand farmers and exports to more than 50 countries.
Venison is naturally lean and tender. It needs to be cooked quickly and simply and I think it is ideal barbecue meat.
Marinate your venison for a short time before grilling. This is especially important for lean cuts, to help tenderise them.
All meat grilled on a barbecue should be cooked over a medium heat. Wait until the flames have died down and the coals are glowing.
Turn the meat once, season the cooked side and then finish to your liking. Venison is best cooked medium rare. Like all meat, rest it before serving.
All these dishes were cooked on a barbecue but would easily transfer to the stove top.
Find out more about buying and cooking venison here.
* Grant Allen has been a professional cook for 30 years. He works as a caterer in Auckland. For more ideas visit Grant's Facebook page.