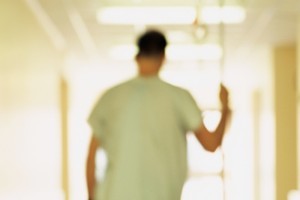 Their story touched hearts around the world when a cancer-stricken husband enlisted some star power to pay tribute to his Kiwi wife.
Dying Sydney man Kristian Anderson convinced Prime Minister John Key and Hollywood star Hugh Jackman to take part in a birthday video for his wife Rachel.
Now after two years of battling bowel cancer, Kristian has been admitted to a Sydney hospice, his struggle almost at an end.
In an interview this week, Rachel said her wedding vows were all important.
"Til death do us part - this is what it's all about."
The couple appeared on the Oprah Winfrey Show when she toured Australia last year - and were given $328,000 by the talkshow queen for medical bills.
The couple and their two sons Cody, 5, and Jakob, 3, had hoped to spend Christmas with Rachel's family in New Zealand.
But instead Rachel was maintaining a bedside vigil this week.
Rachel, 36, said she had tried not to give up hope for a miracle.
"We had had two years to prepare for this but we were always under the impression he was going to get better," she told Sydney's Daily Telegraph.
"Cancer is a scary enough word without hearing 'terminal' next to it. We were honestly expecting there would be more treatment options."
Kristian, 36, has kept a detailed online diary of his courageous battle with cancer. Bevan Hurley