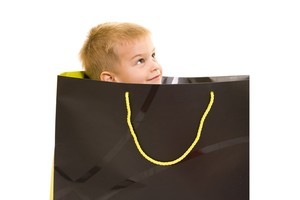 A close friend once gave me a book about how to conceive a baby of the gender of your choice. I'm not entirely sure what the relevance of this gift was since both of us were going through our staunch I'm-not-having-children phase. I think it may have been triggered by a conversation in which we agreed that if we were ever going to have a child we'd prefer to have a girl. (Incidentally, twenty-odd years later we are both mothers. My girl arrived purely by chance while my friend's beautiful daughter arrived by way of an orphanage in Vietnam.)
From memory this book said that synchronising conception with a particular stage of the menstrual cycle could influence the child's gender - a theory that has apparently been refuted by numerous studies. But my abiding impression was of the careful language used and the way it stressed that this advice was intended for people who were aiming to "balance their family". This term refers to people who already have one or more of a particular gender and are keen to have one of the other variety.
Even today this is the way many organisations try to sanitise their offering. "Family balancing" is evidently a more palatable way of packaging gender preference. As the woman behind girlorboy4u.com which offers "natural gender selection" explains: "After giving birth to my second son, my husband and I were desirous that our next child would be a girl."
Blatantly preferring one gender over the other is clearly still not really acceptable in our society. Maybe that's a good thing since we only ever seem to hear shallow and sexist reasons for wanting a boy (someone to talk rugby with and take over the family business) or a girl (someone to dress prettily and go shopping with).
But these days, thanks to the wonders of science and technology, choosing the sex of your child is medically possible. There's no need to just try your best to conceive one gender over another. In conjunction with IVF, fertility specialists can now virtually guarantee whether your newborn is pink or blue.
The technique called MicroSort, which entails separating male and female sperm prior to conception, is not as reliable as Pre-implantation Genetic Diagnosis (PGD) which involves determining the gender of embryos and only implanting those of the preferred gender. Ethicists have trouble with this one since it involves rejecting embryos that happen to be the "wrong" sex.
I had difficulty figuring out whether PGD is permitted in New Zealand. A National Ethics Committee on Assisted Human Reproduction 2005 document said the use of PGD was prohibited "for social reasons, including sex selection." But the 2008 "Who gets Born?" report said: "There is insufficient cultural, ethical and spiritual reasons to prohibit the use of PGD for sex selection for social reasons such as 'family balancing'."
Last week the Ministry of Health clarified the legal situation: "The HART [Human Assisted Reproductive Technology] Act says you're not allowed to choose an embryo based on gender, but the Act also says a defence would be if the selection was made to prevent or treat a genetic disorder."
However the American Society for Reproductive Medicine has no problem with the procedure. Clinics in Los Angeles and New York are attracting so called "fertility tourists" - well-heeled couples determined to conceive the baby of their choice who travel overseas for a procedure not permitted in their home country.
It's clearly a bioethical minefield. The prospect of eugenics and "designer babies" created to order is a chilling one. If we start with gender, or so the "slippery slope" argument goes, it won't be long before we're also stipulating eye colour, hair colour and height. Where will it end?
It's easy to tut-tut about the commodification of babies and frown upon the idea of people callously specifying gender but beyond all the righteous indignation I suspect it could be an appealing option for a lot of people.