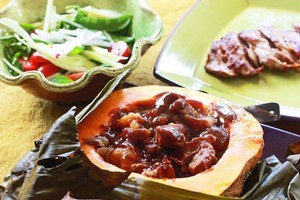 As well as his emphasis on cooking with locally grown, indigenous fruit and vegetables, and using the abundant seafood available, Levionnois also cooks with local wild pork. Known as white pork because of the clever pigs' habit of raiding corn crops before returning to the bush, this creamy meat ends up in the pot after being shot by hunters. He used the neck to poach and the loin to sear. I have substituted pork shoulder chop meat for the poaching. In deference to kanak cooking (similar to a hangi) the meat is put in a squash, or a small pumpkin, wrapped in banana leaf, then in tinfoil and baked in the oven.
1 Scrub and lightly peel a squash or small pumpkin. Cut across the top to make a lid and hollow out the seeds.
2 Make a poaching liquid by simmering a litre of beef stock, 50g of palm sugar, 3 star anise, a dried red chilli and a tbsp of tamarind puree (Levionnois picked fresh tamarind pods from his garden for this).
3 Cut the meat from 3 pork shoulder chops into good-sized chunks and poach in the above until tender. Place the poached meat into the squash cavity.
4 Strain the remaining stock of its aromatics, then reduce it to thicken a little.
5 Ladle some of this sauce over the meat in the squash, put the lid on it, wrap with banana leaf around it and wrap well with tinfoil. Place in a baking dish and cook in a medium oven for up to an hour, until the squash is tender. Check after 40 minutes by carefully piercing the top of the squash through the foil (use a meat skewer or satay stick). Remove from the oven and leave wrapped until you are ready to serve.
6 Make some parsley oil by blitzing fresh parley in olive oil until well blended.
7 Season 4 pork fillets with salt and pepper. You could try some horopito. Levionnois used peppercorns from his tree.
8 Sear in a hot pan and place in a medium oven to continue cooking, 15 minutes max. Remove, cover and rest.
To plate:
1 Put the whole squash on a platter, unwrap and put on the table.
2 Slice the pork fillet and portion on to individual plates. Drizzle with the parsley oil.
3 Put the reheated poaching sauce in a jug and serve with the meal.
Gabriel made a salad that included coconut palm hearts and local greens. Here's a local version: Blanch snow peas, halve baby tomatoes, matchstick some radish and thinly slice some fennel. Arrange on a bed of watercress and dress with lime juice and olive oil.