The celebrations of the traditional hen's party have turned into a wild battle of Kiwi one-upwomanship, writes Linda Meads.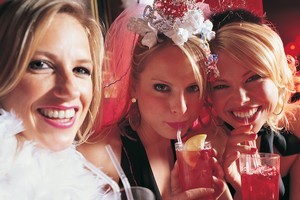 There are several scenes in one of this year's hit movies, Bridesmaids, where maid of honour Annie argues with wannabe chief bridesmaid Helen about the hen's party.
Annie suggests a Parisian-themed weekend away at a lake house, but her ideas are dismissed by the dreadful Helen who is determined to throw bride-to-be Lillian the best and most elaborate bachelorette party of all time.
While I haven't been to a hen's party like the one in the film, where guests are escorted in on horseback and given puppies to take home as party favours, I've been to a fair few over the years and have noticed they're getting increasingly ludicrous as each chief bridesmaid tries to out-do the last.
I don't want to sound like the hen party grinch here, but I reckon these elaborate occasions have started to spiral completely out of control.
The worst kinds are those which require travelling somewhere else with a bunch of people you barely know, which means you are trapped if you wish to make some form of escape.
I'm talking about weekends on Waiheke, in Taupo, or - shudder - Hamilton. Or entire days spent on launches on the harbour.
Not only are these events time-consuming and sometimes a bit awkward, but they're expensive. They can add up to hundreds of dollars by the time you include the spa treatment and/or other activities, a hotel room/apartment/bach for the night, dinner, drinks, a present for the bride-to-be ... And this is all before the wedding and its associated costs.
Of course you don't have to leave town to spend loads of money on a hen's do - these days you can pay for the party to come to you.
You can opt for pole dancing lessons (yep, have pole, can travel), lingerie or sex toy parties, stylists of any description, pampering, cooking lessons, life drawing classes, dance lessons ... all in the comfort of your own - or, preferably, someone else's home. This is usually on top of the obligatory "games" (come on, how many times have you made a wedding dress out of newspaper?), marching the bride-to-be to a swanky restaurant in the city clad in embarrassing sex-related paraphernalia and then - sometimes worst of all - comes the dancing.
Hitting the dance floor after an afternoon and evening of solid drinking is not usually a great idea.
At one hen's night I went to in Sydney, the slightly worse-for-wear guest of honour took great offence when she was asked by the staff at a seriously posh inner-city bar to remove her veil. So we moved on to join a huge queue of hens and their broods outside "the pub that plays all the hits from the 70s and 80s", which must make a small fortune from gaggles of girls travelling in packs accompanied by women wearing penis earrings.
On this occasion the bride-to-be disgraced herself by bumping and grinding with a 20-year-old lad (the average age of the menfolk in the establishment) and a couple of the gals got booted out by the bouncers for being too inebriated. This in itself was quite a feat, considering the clientele.
I know blokes have similar rites of passage to endure before the big day, but their activities often sound like so much more fun.
I like going to the driving range and I adore fishing. Paintball not so much, but Laser Strike? Yes, please.
The average stag do seems to fuse mature activities (golf, bowls, cigars, scotch ...) with boyhood indulgences (rafting, go-karts ...) - even the predictable strip club visit seems pretty harmless really.
I'm also a big fan of the stag and hen parties that meet up at the end of the night.
If you're good mates with the happy couple, chances are you'll know the majority of the attendees - both male and female - and the night can turn into one big, happy party.
But whatever you do, do not ditch the hen's party for the stag do like I did once in my mid-20s, when the girls tried to drag me into Showboys, a male strip-club that used to be on Customs St in Auckland City.
"Sod this, I'm off," I thought, and texted the blokes, meeting up with them in a club. I may have had a great end to my night, but the bride-to-be was not impressed and I was nearly uninvited from the wedding.
Now, I'm not saying all hen's parties are bad because, of course, they have their place and can be riotously good times.
It's a good way to meet other guests (especially if you are attending the wedding solo) and, of course, there is the point of the whole thing - helping the bride-to-be farewell her status as a "Miss". Plus, the activities can be fun - a friend loved an hour-long burlesque lesson in heels and pretty frocks during one hen's night which cost a manageable $20-$30, with BYO alcohol.
I just think it's a shame they've turned into long, expensive and exhausting affairs which can sometimes feel like more of a chore than a celebration.
My pick for the perfect hen's night? Drinks, dinner, more drinks and dancing only if the mood strikes and the levels of inebriation allow. If they don't, head for a karaoke bar. That way people can dip in or out as they choose and the "organised fun" is at a minimum.
We had the old "ask the groom questions about the bride and she has to guess your answer" game during dinner at one particularly fun hen's party recently and it was a great way to combine the two elements.
Yes, when it comes to the last hurrah before a bride-to-be becomes a ball-and-chain, I've often found that less can be more.